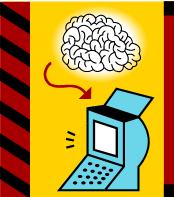 I just spoke on the phone with one of our viewers and what a pleasant conversation it was. We always appreciate the feedback. She talked about how watching our free hypnosis training programs each week have really helped her to stay on track after graduating from our NGH Approved Banyan Hypnosis Certification Super Course. This kind of consistent positive flow of information can make a huge difference in your success.
I want to encourage you to stay "plugged in." I have this saying, "Gold In. Gold out." My saying comes from the old computer science saying, "garbage in – garbage out." That statement refers to the need to put quality data into a computer to get quality data out of it. As you can see, I decided to put my own positive spin on it. We need to not only make sure we are putting quality input into our biological computers (our brains), but, we also need to make sure that the input is consistent.
This is where so many people go wrong in attempting to make positive changes in their lives. In this case, I'm talking about going wrong by graduating from a course (any kind of course), and not having a follow-up plan. When you graduate from any kind of program, if you don't plug yourself into some automatic golden input, it is going to be very difficult for you to succeed. That is right, "automatic golden input." This is good positive information that is consistent with the change you are making in your life, that comes to you automatically! You don't have to go and get it, just subscribe to it.
You should still go to quality websites for information, like the articles I have for you on www.Hypnosis.ORG. But, automated positive input is the best! Then, you don't have to think about it. That is why all our grads get signed up for our support group on Yahoo! It is just for our grads and they are constantly exchanging information about doing hypnosis and hypnotherapy on that group. It is a lifeline to them. That golden information goes into their email boxes every day. It keeps them focused on what they want to accomplish, while at the same time it provides them with ongoing support. If your instructor does not do this, I strongly suggest to her that she does. You will both benefit from having such a group.
This is also a big reason why I set up this website and went to the one-video-per-week model. Keep the consistent flow of golden input coming to you each week. Sign up for our VIP program (top right hand side of this page) and you not only get instant access to over 270 free hypnosis training programs on the site, but, you will also get our weekly newsletter, which, among other things, announces that there is a new hypnosis training video up on this site. And, please, tell your hypno–friends about us!
Okay, that is it for today. Remember, that this week we have a $600 off our upcoming NGH Approved Banyan Hypnosis Certification Course. I hope to see you in class soon.
Cal