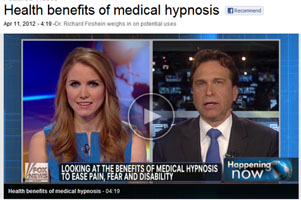 From time to time a major network will do a news story on hypnosis and hypnotherapy and every time it generates business for our office and for yours. With that in mind, I'm glad to see the topic covered in this way.
Here is a mostly positive news story that came from Fox News Channel talking about the benefits of using hypnosis for a number of medical and other issues. But, as you will see, there are some significant problems with the information provided. First the good news…
Dr. Richard Firshein, who was interviewed in this news segment recommends hypnosis for:
Irritable Bowel Syndrome
Pain
Smoking
Asthma
Drug Addiction
I hope you will take a look at the program. The doctor recommends that his patients see a "Certified Hypnotherapist" but, then goes on to say that it is not a "certified specialty." That is confusing for the viewers (heck, it confused me).
Here is a link, http://video.foxnews.com/v/1557144352001/health-benefits-of-medical-hypnosis.
Then, of course, there is the misinformation… He also goes on to say that he recommends that most of his patients go to people who have been trained in doing hypnosis. That was an extremely strange statement. I wonder what percentage of his patients should go to untrained hypnotists?
Plus, does this doctor know that many doctors who call themselves hypnotists have much less training that is provided by the National Guild of Hypnotists certified hypnotists. I doubt it. Many physicians consider themselves adequately trained after just a weekend workshop, but, see those who specialize in the use of hypnosis, and have hundreds of hours of training as "lay" persons.
As if that was not bad enough, most of these doctors will not take the time to actually do the work themselves because they can make much more money practicing medicine. So, if they don't want the hypnotists like us to do the work and they will not take the time to do the work, then, who will?
This is where, in my opinion, the medical establishment needs to change. Doctors need to consider referring their patients to Certified Consulting Hypnotists, or Certified Hypnotherapists, in the same way that they now refer their patients to Occupational Therapists and Physical Therapists.
Have a look at the news video and leave a comment below. What did you think of the story? Did you think it helps the profession? What was most positive about it? What did you not like about the story?
You can learn much more about hypnosis by going to our hypnosis information page on www.Hypnosis.ORG. Please "Like" us below so we can share this information.