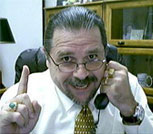 SPECIAL ANNOUNCEMENT: You are invited! Join me in an information–packed teleseminar sponsored by the National Guild of Hypnotists on this NEXT Friday, June 8th, 2012, at 6PM Pacific (9 PM Eastern) time. You can participate via the telephone or online!
Here's how to participate: Phone: 321–354–6946 and Conference ID: 191630#, or go online at the time of the teleseminar via this webpage, www.budurl.com/banyan2012.
This is going to be fun and very interesting. I am going to give you the insider tips and techniques for success and confidence that will give you what it takes to develop the most powerful skills in the profession!
In this information packed teleseminar, you will learn things you can use in your next hypnosis session, including:
I'll reveal what it REALLY takes to become a Hypno–1%er™, the best of the best in the profession.

I'll reveal the insider info on using convincers to grow your practice, empower your hypnosis sessions, and get greater results every time.

I'll reveal the secret to building your skills and confidence that most courses leave out.

I'll reveal the 5 questions you must ask during an age regression to be the best of the best and get permanent results.

I'll reveal the exact order that the most powerful hypnotic techniques must be used in for almost "magical results".

I'll reveal how to confirm that you have the real cause of the problem when doing an age regression session and how to go beyond merely neutralizing it!

I'll reveal how to create "hyper–suggestibility" in your sessions and create long lasting change, even permanent change.

I'll reveal the 5–PATHers' secret so you get longer lasting results and why they don't think about their client's issues in terms of just habit patterns.

Plus, you will learn the one and only insight driven form of self–hypnosis.

You will also learn the one client issue that will stop you and your client's success in its tracks and what you can do to easily overcome it!

Finally, we will talk about the upcoming Week of Power Advanced Hypnotherapy Certification Course at the 2012 Convention.
IMMEDIATE BONUS: As a bonus for attending this seminar, I will make the Banyan Online Supervision Two CD Set, Doing Direct Suggestion Hypnosis Right, available to all of you who have attended.
THIS IS AN INSTANT BONUS AND IT IS A $29.95 VALUE – YOURS FREE FOR ATTENDING. You will be able to access immediately on your computer right after the teleseminar.