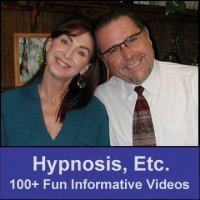 AR Case Study, Don't Always Believe Clients, Know What Clients are Really Feeling
It's another Friday and that means we have a new hypnosis training video for you to watch (or listen to) on"Cal Banyan's Hypnosis, Etc." located on www.CalBanyan.com. Thanks for checking into our hypnosis and hypnotherapy podcast!
Oh, and I don't mention it enough, remember to become a VIP Member of this website. There are lots of benefits, including special discounts to members, articles and more.
In this free hypnosis training video, we talk about when you should not believe your clients! If you don't know this important knowledge, then you can completely miss the ISE (Initial Sensitizing Event) and not get results when doing hypnotic age regression sessions.
Learn how and why people report wrong emotions before and during age regression sessions. Learn how you can find out what they are really feeling so you can be hypnotherapeutically effective. I encourage everyone to learn The Secret Language of Feelings, and you'll see why.
Enjoy this hypnosis training video, and remember to visit our Hypnosis, Etc. Fan Page on Facebook. You'll get the inside scoop on what is going on with the program and other bonuses.
I'll see you on www.OurHypnoSpace.com, where you can meet other hypnosis professionals, share information and have access to free hypnosis scripts.
In this Hypnosis Training Episode:
Question: I have a client who says he is lonely and has a fear of getting his own place. He seems to be confused about the cause of his problem and the ISE doesn't seem related to the problem. What should I do? We've done four sessions and he reports that he has experienced no relief.
This one question takes up the whole show and I get the opportunity to talk about lots of important procedures and techniques needed to do your best during an age regression session. There is a lot of information, so much, you'll probably have to listen to this show twice!
Meredith's Website is, www.YourPathHypnosis.com.
Cal's Websites & Contact Information:

Get Hypno-1%er Professional Hypnosis/Hypnotherapy Certification Training

Make More Money and Get Fit… by joining me on my "Secret Project" and work with me to increase both your health and wealth. I've helped hypnotists and non-hypnotists to add thousands to their income by getting on my "secret project" team.
I'll call you and "spill the beans" letting you in on the whole thing at no cost to you. Email me now at CalBanyan@HypnosisCenter.com. You must live in the USA, Canada, Puerto Rico, Australia, New Zealand, Hong Kong or Taiwan in order to participate. Our "Secret Project" team has now grown to over 900 people, and so now we are limiting it to 5 new partners per month.
That is it for this week. Thank you all for viewing this hypnosis training podcast video. Please pass it along to your friends and colleagues!