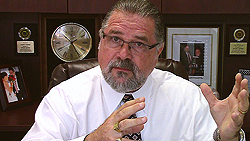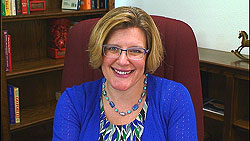 What Is Your Career Path As A Hypnosis Professional?
How Does Advanced Certification Fit Into Your Career Development?
Does Becoming A Trainer of Hypnosis Professionals Make Sense For You?
Where are you in your career development? Where do you want to be? No matter what phase you are at right now you must have a plan for the future in order to get the most out of our profession.
In this new hypnosis video Brenda and I reveal how you can make a huge difference in your future in the profession by examining the advanced credentials, recognitions and opportunities available.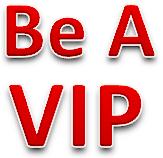 But first…
Remember, you can get notified as soon as we publish the next new video! Click VIP! Its' FREE
Get instant access to all my Hypnosis, Etc. program videos (literally hundreds of videos!). You will never miss an episode and you don't have to come looking for them. It's a "no brainer"! Get all of my free hypnosis training videos each week on
www.CalBanyan.com
.
AND now … back to our hypnosis training video for this week…
Get Started Make sure that your hypnosis organization has a career path! The 5-PATH® International Association of Hypnosis Professionals (IAHP) works alongside the National Guild of Hypnotists to provide a structured and meaningful hypnosis career path.
It Must Make Sense! Don't just go with the flow and hope your career grows on itsl own. In this video we let you in on what is one of the most logical and profitable career paths available, the credentials that you can earn along the way, and the recognitions that you can receive.
Take Action! These credentials and recognitions provide the serious hypnosis professional with both professional recognition and recognition by those in your community so that you will differentiate yourself from less serious hypnotists in your area. This can result in more client bookings for you and more students for your classes if you are offering them.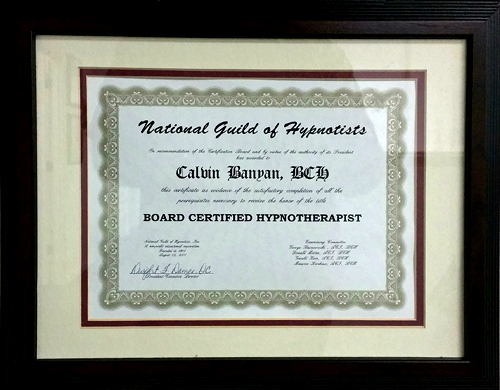 Congratulations to Brenda (BCH) Right after this video was recorded we found out at in deed, Brenda did receive her National Guild of Hypnosis Board Certified Hypnotist certification. Now she will have a cert just like mine up in the office. Congratulations Brenda, you are both a leader and an inspiration to other hypnosis professionals around the world.
Some of the credentials and recognitions mentioned in this video are:
Certified Hypnotist or Consulting Hypnotist (NGH)
Board Certified Hypnotist (NGH)
Certified Professional Hypnosis Instructor (IAHP)
Accredited Certified Professional Hypnosis Instructor or School (IAHP)
Fellow of the National Guild of Hypnotists (NGH)
Diplomate of the National Guild of Hypnotists (NGH)
Order of Braid Council (NGH)
There are so many ways to benefit by adding to your professional achievements! If you are not a member of the National Guild of Hypnotists, contact us and we will help you to become a member. If you are not 5-PATH® Certified contact us and we will help you to become both certified and gain membership in the IAHP. Then we can work together to ensure that you on the career path that is right for you.
Should you consider becoming a professional hypnosis instructor? Here is a link to a recent video that Erika and I published that let's you in on why it may be right for you and the many benefits of becoming a "Banyan Hypnosis Instructor" a CPHI.
THE Future… Your Future… Get 5-PATH® Certified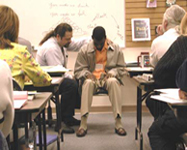 October, 2015 – Be in my NGH Approved Banyan Hypnosis & Hypnotherapy Certification Super Course! Remember to check out my upcoming class schedule here on this site to see when my next classes are and see if you can get in on the early registration discounts. YES, you MAY be able tp take this course live online!
Be a VIP of this site! Become a Click VIP! Its' FREE – and we will send you a note each week when the latest video is available plus instant access to all the videos so far. Enjoy!
Stay in touch! We love feedback and ideas! Also, "Like" us on facebook at www.facebook.com/hypnosisetc and get in on the conversation! Thanks!
Enjoy this video and pass it on!
Cal
Get more, get connected and spread the word!

Do you "like" our videos? "Fan" us on our Facebook page at www.Facebook.com/hypnosisetc. Get in on the conversation and we place more "hypno-gold" there on a regular basis. Share us with your hypno-friends! Thanks!

Become a member of www.OurHypnoSpace.com! It's free and fun professional networking! Use the "Ask Cal" Group on www.OurHypnospace.com to ask questions and suggest topic ideas for the Hypnosis, Etc. show!

FREE INSTANT ACCESS TO ALL OUR HYPNOSIS, ETC. VIDEOS Get a super easy linked list of all Hypnosis, Etc. training videos! VIP Membership is free – Click Now!