Wow, the teleseminar went really great. I'm hoping to get the numbers from the NGH on how many attended, but from the feedback I've received already, it looks like it was one of the most attended ever! And it was one of the most, if not, the most well attended internationally, with callers coming in from Canada, Germany, the UK, Switzerland, Russia and perhaps more countries as well.
Here is just some of what I covered:
Why you should master hypnotic age regression
Overview of how to do age regression step by step
Many insider techniques covered
Tough questions from the audience answered
Where you can get my "bribe" of an least an $85+ value instantly

Go here, http://budurl.com/banyan2014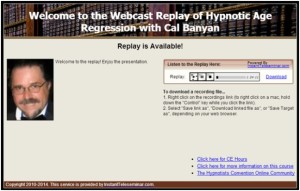 Please pass this on if you know any hypnotists, and, if you Like or Share this, it helps to get the word out as well. Thanks!