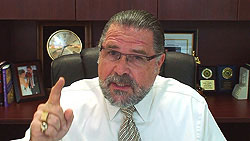 How to Respond if You are Asked to be a TV Hypnotist.
Happy Hypno-Tuesday! Cal is back with another informative episode on Hypnosis Etc. In this "All Cal" episode, Cal talks about a graduate of his who recently was invited to be on a Reality TV show. He lets you in on why you should expose yourself to the media, how you should prepare yourself, or reasons why you should not.
First Cal spills his first experience being on TV for Hypnosis and how he got there. He discusses that having a professional updated website will increase your chance of being contacted, in fact that is how he was contacted. Cal mentions the importance of your professionalism. How being confident and competent in your appearance on a TV show can help your practice take off! Cal also says if you are a Hypnotist who is successful with your clients, by all means you want to say yes if you are ever asked to be on TV.

So, Cal introduces us to Alanna Jackson, who just recently was on an episode of "Here Comes Honey Boo Boo" where she had a session with Mama June on her fear of mayonnaise.  He explains why even though the session did not go well, it is very likely that Alanna will benefit from the exposure.
Cal lets us in on how best to prepare for being on TV and best benefit from the media exposure. Your appearance is something everyone should be thinking about when you are about to go in front of a camera, from the way the light picks up your clothes, to simply adding a blazer or sport coat to your normal off attire. Also the way your office appears should reflect the kind of professional you are.
Cal closes the episode by talking about what to do if your client does not follow instructions or cooperate during the recording of the TV program. You can't control what will be edited but you can control the way you are perceived thru the camera. As long as you stay confident and competent throughout the session that is what will be recognized.
Things discussed in today's video:
Reasons you should or should not be on TV doing Hypnosis
How your website can help you get there
The importance of office and personal appearance when being on TV
Two things you need the most to succeed with hypnosis on television
Links to resources mentioned in this video:
Thank you to all of our fans from around the world! Continue to follow us on Facebook to receive updates on what's going on between each

episode and to give your input as well. If you haven't done so already, check us out and "Like" us on www.facebook.com/hypnosisetc. Thanks a whole lot for sharing us with your friends as well!