Hello Hypnotists!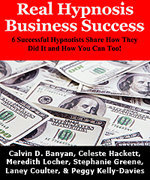 This is your last chance to get the new book, Real Hypnosis Business Success, for FREE.
If you have not already gotten your free copy of this book then do it now. It is free for this last day only. If you are not sure if you want it, get it anyway. It costs you nothing and the contents of this book can be the one thing that turned you hypnosis practice into a full time operation.
After this giveaway promotion, the price will go back to $9.97 so get your copy now.
Here is the link to go directly to the book's page on Amazon.com, http://amzn.to/Z6pYC1 (shortened link is for your convenience).
IMPORTANT NOTE You can read this book on your smart phone, tablet, PC or Mac. You do NOT need to have a Kindle reader. Here is the link so you can get the Kindle reader for your device, http://amzn.to/YJjEks (Even if you don't get our book, you should still get the reader.)