Hello Hypnotists!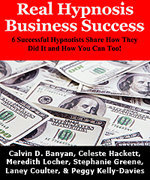 There are only 2 days left to get the new book, Real Hypnosis Business Success for FREE.
After months of hard work, we have completed the book and it is ready for you to download for free. Get your book for free is today and tomorrow (12, and 13, 2013).
In this book, 6 successful hypnotists share what they had to learn to do to overcome each of their challenges. This is an inspiration filled practical "how to" book. And for three days it is free as part of a promotion.
Why are we giving it to you for free? It is worth way more than the regular Kindle price of $9.97, but we want to get as many copies of the book out as we can in a short period of time. This will help us to help you, and to help the future of the book as well. With lots of copies out there, we hope everyone will see how valuable the book is and give us some great reviews.
After this giveaway promotion, the price will go back to $9.97 so get your copy now.
Here is the link to go directly to the book's page on Amazon.com, http://amzn.to/Z6pYC1 (shortened link is for your convenience).
IMPORTANT NOTE You can read this book on your smart phone, tablet, PC or Mac. You do NOT need to have a Kindle reader. Here is the link so you can get the Kindle reader for your device, http://amzn.to/YJjEks (Even if you don't get our book, you should still get the reader.)
You can only get your copy of the book for free today and tomorrow. So click here, http://amzn.to/Z6pYC1 to download your copy now.