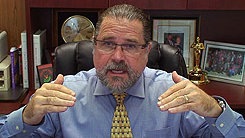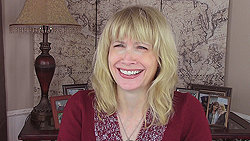 How to Provide the Best Support & Motivation for Clients Losing Weight
Discover How Erika is Building a Full Time Hypnosis Practice.
Happy Hypno-Tuesday! I'm back with another episode of Hypnosis Etc. with the one and only Celeste Hackett on www.CalBanyan.com.
In this episode, Celeste brings up a question from a fellow 5-PATHer who recently graduated from her class in Dallas, Texas. She has a weight-loss client whose goal is to lose 38 pounds in 5 weeks. She knows her client won't reach her goal while conducting 5-PATH® sessions that are a week apart. Her question is, "How can I best support her further in her journey until the weight comes off?"
This is a very common question in the hypnosis profession. During this episode, I share a few suggestions to Celeste on how to help clients stay strong and motivated. I explain why and how to schedule new appointments with previous clients to help them continue to reach their goal. We describe different methods and techniques that will benefit the client such as direct suggestion work and age progression work. I recommend why the High Road Low Road Universal Hypnosis Script is an excellent technique to use for weight-loss clients.

Today's Discussion Points:
How to help clients stay motivated while trying to lose weight.
How to let your clients know that you are still there to support them in their journey.
Why and how to schedule appointments with existing and previous clients.
What types of hypnotherapy techniques you can use for weight loss.
Why teaching 7th Path Self-Hypnosis® will help clients reach their goal and other issues they may struggle with.
More recommendations to help clients stay on track and keep the weight off.
Celeste also recommends that teaching 7th Path Self-Hypnosis® to your client can benefit them in many ways. She shares a few pointers to help clients stay on track and keep the weight off. You can check out Celeste's articles on Hypnosis.org to maintaining weight loss here:
We have free hypnosis and hypnotherapy articles written by respected authors and trainers in the field of hypnosis and hypnotherapy that you can read here. In addition, check out our Hypnosis.ORG E-Zine, where we have hypnotist who post a new article every quarter about hypnosis and other techniques.
Exciting News… Congrats to our new winner, Tracy Douga, for winning a FREE Hypno-Mug!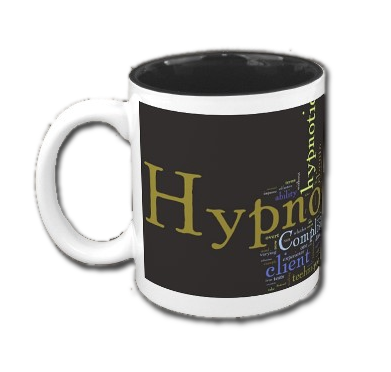 Would you like to get a FREE Hypno-Mug? Then remember to enter into our drawing for free hypnosis coffee mug. There are 2 chances to win:
1. Become a fan and "Like Us" on www.facebook.com/hypnosisetc
2. Or become a VIP Member.
You can also see more mugs and cool professional hypnosis promotional items such as t-shirts by visiting our Zazzle Store.

Thank you to all of our fans from around the world! Continue to follow us on Facebook to receive updates on what's going on between each

episode and to give your input as well. If you haven't done so already, check us out and "Like" us on www.facebook.com/hypnosisetc. Thanks a whole lot for sharing us with your friends as well!
COMING SOON Our new book, Real Money Real Hypnosis Success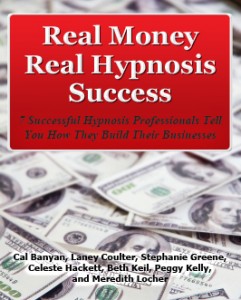 (working title) is all about how to get your hypnosis practice up and running and/or take it to the next level. Several hypnosis professionals who have built successful hypnosis practices tell exactly how they did it. Become a VIP or join our www.facebook.com/hypnosisetc page to get your free copy as soon as it is published.

Click the "BE a VIP" button for FREE INSTANT ACCESS
Get a super easy linked list of all Hypnosis, Etc. training videos!
There is no better way to get started accessing all these videos.
Hot Links: Links Mentioned in this Podcast, Etc.

Got an iPhone or iPad? Our program is on iTunes. Available as audio and video. Subscribe to this podcast and download our programs automatically.
Get Professional Hypnosis / Hypnotherapy Training – With early registration discounts available.