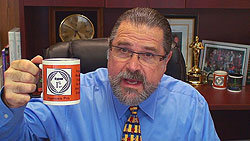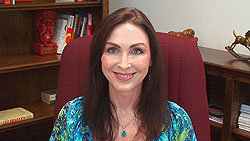 10 Keys to Working with Resistant Hypnosis Clients, & More…
Happy Hypno-Tuesday! Meredith Locher will be making her fourth and final appearance for this series of Hypnosis Etc. training videos on www.CalBanyan.com. Get ready to take down notes as we go down a list of valuable information to help you become a better "5-PATHer."
In this latest episode, we start discussing how to become successful in the hypnosis profession. A couple misconceptions to becoming a successful hypnotherapist are that you need work experience or a college education. Meredith and I were talk therapists and have earned a Master's Degree. Do not let our credentials intimidate you in becoming a professional hypnotist. We explain why it is NOT necessary to have a college degree or have any experience in psychology, counseling or social work, etc. If you get great training and you really apply yourself to using what you learned, then you should be successful.
For those who are already experienced and certified hypnotist, we have a course coming up for those who need to polish up their skills or simply want to learn new techniques. The Week of Power is a seven-day course starting on April 28 – May 4. If you would like to enroll for this course, please click here.
As we move forward in the episode, we dive into a question from a fellow "5-PATHer." Her question is "What is it that makes some people access 5-PATH® (age regression and other insight work techniques) better than others?" We answer her question by providing 10 Keys to working with clients with low insight, so that she can get better results.
We love sharing our methods and experiences with you. If you have any thoughts, advice or want to share any experiences with us, just leave us a comment below, we'd love to hear from you.
Reminder — Please note, NGH Approved Super Course & Week of Power Dates have been moved to the following:
Week of Power Course Date:

April 28 – May 4, 2013

—

For hypnotists who want to take their practice to the next level with 5-PATH® and 7th Path Self-Hypnosis® Certification.
Next Super Course Date:

July 15 – 26, 2013

— For those who are just coming in to the profession and want the basic and advanced techniques.  We go way beyond how to hypnotize and you get 5-PATH® and 7th Path Self-Hypnosis® Certification.
Following Super Course Date:

October 14 – 25, 2013

— 

Once again, this course is for those who are just coming in to the profession and want the basic and advanced techniques.  We go way beyond how to hypnotize and you get

5-PATH® and 7

th

Path Self-Hypnosis® Certification.
Exciting News… Congrats to our new winner, Eugene Ahn, for winning a FREE Hypno-Mug!
Would you like to get a FREE Hypno-Mug? Then remember to enter into our drawing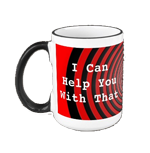 for free hypnosis coffee mug. There are 2 chances to win:
1. Become a fan and "Like Us" on www.facebook.com/hypnosisetc
2. Or become a VIP Member.
You can also see more mugs and cool professional hypnosis promotional items such as t-shirts by visiting our Zazzle Store.
Thank you to all of our fans from around the world! Continue to follow us on Facebook to receive updates on what's going on between each

episode and to give your input as well. If you haven't done so already, check us out and "Like" us on www.facebook.com/hypnosisetc. Thanks a whole lot for sharing us with your friends as well!
Today's Discussion Points:
How to become successful in this profession.
Why you need to pat yourself on the back and be very proud of what you are doing!
Who we can work with and who we should not work with, i.e. because of IQ level.
How to work with individuals who do not have a lot of insight.
How to be successful addressing the cause of the problem when secondary gain is present.
When to take on clients with disabilities and disorders and when to not work with them.
How negative transference can cause problems and how the hypnotist can deal with it.
Banyanism, "Hypnosis is a confidence game. If you don't get their confidence there will be no game."
Banyanism, "If something isn't working that should be working then something before it was not done either effectively or completely."
How and why working with friends or family members can cause problems that can keep you from being able to help those individuals.
This Week Only: Save 20% OFF 5-PATH® 2.0 Hypnosis Training DVD Set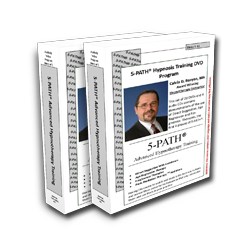 This has been called Cal Banyan's master piece. It is the most up-to-date and advanced distance learning course produced by this award winning master trainer to-date. At last, you can train in your home or office in this powerful hypnotherapeutic process that is revolutionizing how professionals are doing hypnosis!
Learn Up-to-Date Advanced Techniques
Programming your clients for success using inductions designed to take them into deep hypnosis (somnambulism).
How to end internal conflict and secondary gain with Parts Mediation Therapy.
How to create powerful change by doing Forgiveness Therapy.
How to supercharge direct suggestion by using insight therapy.
How to use Age Progression to program your clients for success.
How to do Age Regression Therapy and the Informed Child Technique.
SAVE 20% when you order the 5-PATH® 2.0 Hypnosis Training DVD Program by February 12, 2013. Click here to order.
COMING SOON
Our new book, Real Money Real Hypnosis Success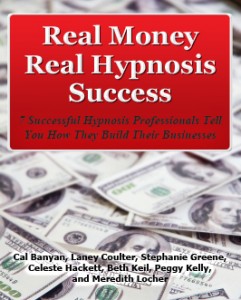 (working title) is all about how to get your hypnosis practice up and running and/or take it to the next level. Several hypnosis professionals who have built successful hypnosis practices tell exactly how they did it. Become a VIP or join our
www.facebook.com/hypnosisetc
page to get your free copy as soon as it is published.

Click the "BE a VIP" button for FREE INSTANT ACCESS
Get a super easy linked list of all Hypnosis, Etc. training videos!
There is no better way to get started accessing all these videos.
Hot Links: Links Mentioned in this Podcast, Etc.

Got an iPhone or iPad? Our program is on iTunes. Available as audio and video. Subscribe to this podcast and download our programs automatically.
Get Professional Hypnosis / Hypnotherapy Training – With early registration discounts available.