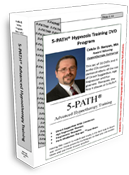 What is 5-PATH® Hypnotherapy?
5-PATH® or "Five-Phase Advanced Transformational Hypnosis" is a systematic and predictable approach to hypnotherapy that provides the hypnotherapist a universal approach to getting highly reliable and consistent results with most of the issues and problems that clients experience.
Become 5-PATH® Certified without Leaving Your Home or Office
5-PATH® 2.0 is our most popular hypnosis training DVD course. Learn from award winning hypnosis trainer, Cal Banyan, from the privacy and convenience of your home or office. This professional training course includes 20 videos of professional 5-PATH® Hypnosis Training, including real sessions with real clients.
Become a 5-path® Expert and Help Your Clients with the Following Issues
Stop Smoking
Weight Loss
Fears and Phobias
Motivation
Sports Improvement
Relationship Issues
Sales Performance
Sexual Issues
Addiction
And much more!
Exciting News… 20% off 5-PATH® Hypnosis Training DVD Course
For this week only, save 20% when you purchase 5-PATH® 2.0 Hypnosis Training DVD Course.
It is time to act and move forward in the profession. Invest in yourself. Invest in your practice! Move up to a whole new level of competence and confidence… Become a 5-PATH® Certified Hypnotherapist!
To learn more or to order and save 20%, click here.