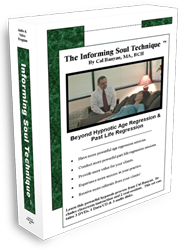 What are the Two Most Important Days in Your Life?
One of them is the day that you are born.
The other is the day you learn why you were born!
The Informing Soul Technique™ uses hypnosis to enable a client to go before she was incarnated, back to her pure soul consciousness. Once in this state, the hypnotist can speak to the individual's soul and find out what is her purpose in life.
Exciting News… Order Informing Soul Technique™ DVD course today and save 20%. This weekly special is for a limited time only.
Learn this powerful technique to help your clients find out the following:
One's role and purpose in the upcoming life

Any relationships continued from before

Purpose of any special challenges in this life

Main reason for coming into this life
Informing Soul Technique™ will help you take your practice to the next level by allowing you to:
Have more powerful age regression sessions

Conduct more powerful past life regression sessions

Provide more value for your client

Experience more success in your practice

Receive more referrals from your clients
With the Informing Soul Technique™ DVD, you get everything you need to get started, including a step-by-step video tutorial on how to conduct these sessions, class handouts, and much more.
If you would like to learn more or order this course, click here. Order today and save 20%! There is a short video there where Cal Banyan explains it all.