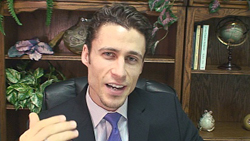 How Learning from Your Clients Can Take Your Hypnotherapy Practice to the Next Level
We are back with another Cal and Elronn episode of Hypnosis, Etc. program here on www.CalBanyan.com. In today´s episode, we talk about what we learned from our hypnosis clients. Then we go on to talk about how our client experiences can give you great insights on how to interact with your clients, from developing first impressions to guiding your client's subconscious mind, and how to take your hypnotherapy practice to the next level.
If you enjoy learning from these videos, we suggest that you tell your friends about this tremendous resource for hypnotists and hypnotherapists around the world. Remember to check out our Hypnosis, Etc. page on Facebook, at www.facebook.com/hypnosisetc. Please "Like" it and get into the conversation.
Turn Your Hypnosis Practice into a "Gold Mine"
Save 20% Off My Hypnosis Training CD Set at www.Hypnosis.ORG
Learn How to Get More Clients & More income with this Hypnosis Practice Building Package.
How to Get More Clients
How to Increase Your Income
How to Book Appointments
How to Make the Internet Work
Today's Discussion Points:
Power of First Impressions – How to improve first impressions with clients.
Wipe Your Mind Clean – How to avoid making assumptions about a client's case.
Keeping Composure – How to communicate effectively with clients while dealing with your feelings inside.
Trusting the Subconscious Mind – How to trust your subconscious in guiding the client's subconscious.
Hot Links: Links mentioned in this podcast, etc.
Get Your Professional National Guild of Hypnotists Approved Hypnosis and Hypnotherapy Certification – Early registration discounts available.
Be a VIP – Keep in touch and get THE latest insider info about this program:

Also remember to stay in touch and on the inside by becoming part of our VIP Program, and by "Liking" our facebook page at www.facebook.com/hypnosisetc. By joining our free VIP Program you get instant access to the complete listing of all our free hypnosis training videos that you can watch any time.