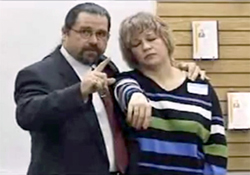 Doing Fast Hypnotic Inductions in a Professional Practice, Demonstrations, and a Discussion
Watch Cal Do Instant Induction Demos in this
Hypnosis Training Video Below
Today, Elronn and I continue your hypno-education by doing something different. In this episode here on www.CalBanyan.com, we are going to give you a quick look at me doing some instant inductions. We are going to give you this quick look by showing you a very popular hypnosis training video that I posted on YouTube.com a while back. It is a highly commented upon hypnosis video which has over 400,000 views so far. I think you will find this very interesting and give us a foundation for our discussion about the professional use of these highly efficient and effective inductions.
During this episode, we will talk about how to prepare clients to go into deep hypnosis using an instant induction.
Today's Discussion Points:
In this short video, I demonstrate a number of my quick hypnotic inductions including, telling you a little about how to make them work.
Things to consider when doing instantaneous hypnosis demonstrations versus sessions.
Other physical considerations and misconceptions about doing instant inductions.
Discussing role of tests and convincers related to instantaneous inductions.
Ways you could save time in your session by doing these fast hypnotic inductions.
Why some hypnotists fail in doing instant hypnotic inductions and how they can be successful.
For those of you who would like to learn these inductions, and introduce them into your professional practice, I'm putting the full video set on sale for you this week. The name of the program is, Instant and Rapid Inductions for the Professional, DVD set. It is one of my MOST popular programs. I think you will find it to be an essential part of your hypnosis training library.
The Eight Word Induction
Eye-Lock Induction
Blast Off Induction
Post-Hypnotic Suggestion Induction
And, more.
Hot Links: Links mentioned in this podcast, etc.
Get Your Professional National Guild of Hypnotists Approved Hypnosis and Hypnotherapy Certification – Early registration discounts available.
Be a VIP – Keep in touch and get THE latest insider info about this program:

Also remember to stay in touch and on the inside by becoming part of our VIP Program, and by "Liking" our facebook page at www.facebook.com/hypnosisetc. By joining our free VIP Program you get instant access to the complete listing of all our free hypnosis training videos that you can watch any time.