Happy HypnoFriday on this beginning of HypnOberfest! Yes, you heard me right.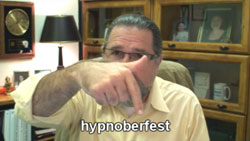 Happy HypnOberfest & A Big Thank You
This is going to be a very short episode of Hypnosis, Etc. program. Here's the deal…
As I mentioned last week, our lead I.T. man, Taylor is no longer going to be working at the Banyan Hypnosis Center (yeah, we'll miss him). AND, even though we had two weeks' notice, we have not yet found a suitable replacement. So we are posting this very short – but very cool – hypnosis video to tell you about "HypnOberfest".
We want to thank all you viewers for watching us each week, telling your friends, leaving comments, AND for a bit of patience with us while we make this transition. So, that is why I'm declaring these next 7 days "HypnOberfest". From now until we post the next episode of Hypnosis, Etc., you get to help us celebrate "HypnOberfest" with this coupon good for 10% off everything on www.Hypnosis.ORG. That means everything. You'll get 10% off even on those items that are already listed as having a discount, i.e. for early registration, for example. I'll explain it all in this video. Just use this coupon code when you check out, "hypnoberfest" to save the 10%.
Get Your Professional National Guild of Hypnotists Approved Hypnosis and Hypnotherapy Certification Here AND Save an ADDITIONAL 10% During HypnOberfest!
Keep in touch and get THE latest insider info about this program:

Get instant access
to 240+ of my hypnosis
training programs free!