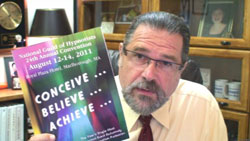 Q & A with Cal: Age Regression, Socializing with Clients, And More!
Happy Hypno-Friday and here is the latest free hypnosis training video here on www.CalBanyan.com.
This is going to be another Cal-only video, so get yourself in a comfortable place and begin with the first recognition. Wait, that's not right! This is the podcast, not 7th Path Self Hypnosis®. I guess I am a little confused because I am wrapping up a hypnosis certification course this week. That's right, another group of people joining the profession. See you on the Yahoo Groups!
In this week's episode of Cal Banyan's Hypnosis Etc., I answer some of your questions. Yes, your questions about, age regression, clients and other hypnosis questions you may have.
Here are some of your hypnosis questions:
During Age Regression when I ask, "How old are you?" the client replies with their current age. How can I rephrase the question to get the regressed age?
Should I organize and conduct meet ups for clients so they can socialize together?
Who should I see at the NGH convention this year?
And More!
Here are some more links related to the show:
Upcoming Hypnosis & Hypnotherapy Certification Courses – Register Early for Substantial Discounts:

Keep in touch and get THE latest insider info about this program:
Become a member of our Facebook page at www.Facebook.com/hypnosisetc! You'll get the "inside scoop" on different things from the show, and more!

Get instant access
to 150+ of my hypnosis
training programs free!