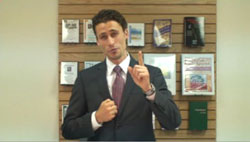 Helping Clients with Relationship Issues and Heartbreak – Part 2
Here we go again with another free hypnosis training video on www.CalBanyan.com. Sadly, it's the conclusion of the Elronnathon… for now.
In this week's episode of Cal Banyan's Hypnosis Etc., Elronn wraps up his miniseries on working with clients with relationship issues. Don't forget to leave a comment below to let Elronn know what you think!
Here are some of Elronn's hypnosis topics in this episode:
What if your client is having completely irrational feelings?
Make sure you do age regression in your hypnosis session!
Use metaphors to help your client understand and put things into perspective.
Which is better, a clean break or ongoing contact?
Make sure you do Age Progression and Future Reinforcing Events.
And More!

Help your clients take back control of their life with this revolutionary new approach to self-understanding, self-healing and self-improvement. Visit www.TheSecretLanguageofFeelings.com.
Here are some more links related to the show:
Upcoming Hypnosis & Hypnotherapy Certification Courses – Register Early for Substantial Discounts:

Keep in touch and get THE latest insider info about this program:
Become a member of our Facebook page at www.Facebook.com/hypnosisetc! You'll get the "inside scoop" on different things from the show, and more!

Get instant access
to 150+ of my hypnosis
training programs free!