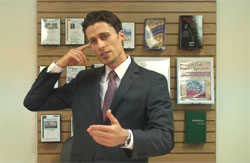 Helping Clients with Relationship Issues and Heartbreak
Happy Hypno-Friday everyone and welcome to another free hypnosis training video here on www.CalBanyan.com. …The Elronnathon continues…
This week's episode of Cal Banyan's Hypnosis Etc., is another Elronn-only video. Since Elronn did such a good job last week, he decided to do a couple more for us all.
This time Elronn gives us some great tips for doing hypnotherapy with clients who have relationship issues. Specifically, the clients who are having trouble getting over a break up.
PLEASE feel free to leave your comments below and ask any questions of Elronn. He will be checking the comments area frequently.
Here are some of Elronn's hypnosis topics in this episode:
How to talk to potential clients with relationship issues on the phone.
Can relationship issues increase your client's "bad behavior"?
Does your client have a pattern of heartbreak in relationships?
Don't forget to validate your client's feelings.
Avoid relationship cliché's when talking to your client.
And More!
Suggested Reading: Here are some of the books that Elronn mentions: How to Break your Addiction to a Person, by Howard Halpern. The Journey from Abandonment to Healing, by Susan Anderson. Moving On, by John W. James & Russell Friedman. Elronn also mentions an article in Psychology Today entitled, A Thoroughly Modern Guide to Breakups.
Here are some more links related to the show:
Upcoming Hypnosis & Hypnotherapy Certification Courses – Register Early for Substantial Discounts:

Keep in touch and get THE latest insider info about this program:
Become a member of our Facebook page at www.Facebook.com/hypnosisetc! You'll get the "inside scoop" on different things from the show, and more!

Get instant access
to 150+ of my hypnosis
training programs free!