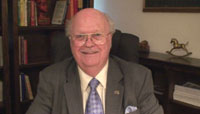 Dr. Dwight Damon Discusses His Upcoming Book and More!
It is Hypno-Friday and that means that we have another free hypnosis training video on www.CalBanyan.com.
This weeks' episode of Cal Banyan's Hypnosis Etc. is a special super sized version. I have a special guest who has never been on the show before! That's right, the President of the National Guild of Hypnotists, Dr. Dwight Damon, took some time out of his schedule to do the podcast with me.
And, we are proud to say that Dr. Damon chose this website to make his first public electronic media announcement of his upcoming book. The book has the very long working title of, The History of the Development of Hypnotism as a Separate and Distinct Profession in the United States Since World War II, or will probably be renamed by the time of publication to be, Hypnotic Recollections. In this podcast, we talk about the book and more topics of interest to professional hypnotists and hypnotherapists. Enjoy!
Here is what we discuss in this episode:
Why write this book and why is it being written by Dr. Damon?

What were the "hypno-wars" that have occurred since WWII?

What other organizations other than the NGH are represented in the book?

Who is Dr. Rexford North and did he really mysteriously disappear?

What are some of the critical turning points in the history of the profession?

What is the greatest PR tool available to the working hypnotist?

Why is the NGH associated with a union?

When will the book be available?

And Much More!
Here are some more links related to the show:
Upcoming Hypnosis & Hypnotherapy Certification Courses:

Get instant access
to 150+ of my hypnosis
training programs free!
Keep in touch and get THE latest insider info about this program:
Become a member of our Facebook page at www.Facebook.com/hypnosisetc! You'll get the "inside scoop" on different things from the show, and more!