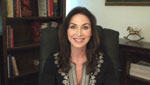 The Time Tunneling Technique™ Part 1 and More!
Here we go again with another free hypnosis training video on www.CalBanyan.com.
I welcome the return of Meredith to the show in this week's episode of Cal Banyan's Hypnosis Etc.. She will be here for a few more episodes, so stay tuned. Don't you just love having her back? I do!
In this episode, you'll watch and see how Meredith really doesn't want to get all controversial and ends up being just about as controversial as Elronn and I. Then, she helps me tell you about a NEW hypnosis age regression technique.
REMEMBER: National Guild of Hypnotist's Solid Gold Weekend is going to be in Anaheim California, February 26 and 27, 2011!

You can get more details at www.NGH.net (more info coming).
I am going to be presenting on the topic of mastering hypnotic age regression and hypnotherapy.
Use this link to register, https://www.ngh.net/forms/solidgold.aspx.
Here is what we discuss in this episode:
Here are some past episodes that I mention:
Here are some more links related to the show:

Get instant access
to 150+ of my hypnosis
training programs free!
Keep in touch and get THE latest insider info about this program: