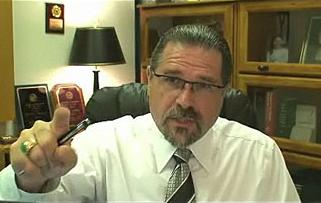 Over the last few years we have gained quite the reputation around the world as being THE hypnosis training video website. Thank you all so much for helping us to get the word out, but now, we are going to change things up a bit…
2011 is just a few weeks away, and we are going to get controversial. In addition to giving you the greatest free hypnosis training programs in the world, we are also going to plunge head first into looking into some of the most controversial topics in the profession. For the most part, it will be Elronn and me attacking these topics. Agree with us or not, at least you will know where we stand and you can post your opinions here. By the way, there is no guarantee that Elronn and I will agree on these topics either! This is going to be VERY interesting.
Upcoming Topics:
Should hypnotists be licensed?

Should we use the title hypnotherapist, hypnotist or consulting hypnotist?

Should hypnotists have "relationships" with their clients?

Should hypnotists work with their friends and family members?

Should hypnotists get permission from their clients to use age regression?

Should hypnotists urge their clients to continue if it is painful?

Should hypnotists urge clients to refer friends or family?

Should hypnotists offer incentives to their clients for referrals?

Should hypnotists offer a percentage of the services for free (pro bono)?

Should hypnotists offer information about themselves to build rapport?

Should hypnotists allow parents to observe sessions done with minor children?

Should hypnotists alert the authorities when they learn about abuse?

What is the minimum number of hours of training a hypnotist should receive to become certified?

Should a hypnotist see a minimum number of clients per year in order to continue to be certified?

Should a hypnosis trainer or instructor see a minimum number of clients in order to teach certification courses?

Should continuing education be required of hypnosis professionals?
How is that for a start? I'm sure we will upset someone as we express our views. Don't worry about that, we reserve the right to change our minds when confronted with new information. Agree with us or not, we hope you will leave a comment and let us know what you think. And, maybe we will all learn something in the process.
Oh, by the way, we are not going to abandon our successful hypnosis training format. Meredith and I will continue bringing you the best hypnosis training we can by continuing in our successful format of the past by answer answering your questions about hypnosis and hypnotherapy, covering other important topics.
Suggest a controversial topic if you want to hear us weigh in on one that is not on the list. Leave your suggestions below in the comments area.
Covering these controversial topics will begin in January, 2011 in the first episode that I do with Elronn. In the meantime, we still have one or two more episodes coming your way with the kind of hypnosis training videos that you know and love.
Enjoy and tell your friends and colleagues.
PS… Remember to become a VIP Member and get instant easy access to all our previous programs and other "bennies".