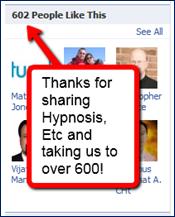 Meredith, Elronn and I want to send out our thanks to all of our viewers who have become fans on www.facebook.com/hypnosisetc. We really appreciate you for watching, listening, commenting and sharing our program with you hypnosis friends and colleagues.
It has been quite a month for us at the Banyan Hypnosis Center. Along with reaching this 600 fans on our facebook page, we just published our 200th episode.
Thank you so much for keeping an eye on us. Let's continue to work together to grow our profession and most of all to help people around the world using the highest quality hypnosis techniques available.
Remember until Friday (12-17-10), I am giving all of our fans 20% off of everything on www.Hypnosis.org. Just enter coupon code "Podcast200" during checkout and it will apply to all your purchases that you "put into that cart" (this even applies to our live training programs).