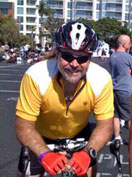 I've got some really crazy news for you…
Last Saturday, I took part in the Amtrak Century Ride, a 100 mile bicycle ride from Tustin, CA to San Diego, CA, …
AND, I'm going to give you something special because I'm celebrating!
Of course, you know about my famous "Week of Power" Advanced Hypnosis Training Program. It is THE Hypno-1%er Course. This course was designed to create the best of the best in the profession, the top 1%…
AND, to celebrate my success in completing the 100 mile bike ride (and finishing 1 1/2 hours faster than last year), I'm going to give you a crazy discount on this advanced hypnosis course!
You are not going to save $100.00, though that would make sense, since I'm celebrating a 100 mile ride.
You are not going to save $200.00, even though that would make sense since this is the second time I've completed that big loooong bicycle ride.
Here is the big news that makes this a real crazy celebration… You save $400.00 when you sign up right away!
This celebration discount will expire on Sept. 19th, 2010 (Sunday at Midnight Pacific Time), or when the class fills up (whichever happens first).
ACT NOW, this course starts on October 3rd and goes through the 9th.
Go here to get all the details on the course. Week of Power
Here is your discount coupon, good only for this class, until Midnight, Sept. 19th, 2010, or until the class fills up. Coupon = ed83b8b139.
If you would rather call us than use the website, here are our telephone numbers, 714-258-8380 or 800-965-3390.
See you in class!
Cal
PS This course fills up, so make sure you act now. I have never offered this discount before. I'm just having a crazy celebration impulsive discount. Enter this coupon code when you check out ed83b8b139 or call our office. Classes are small to ensure quality.
PPS This course is for certified hypnotists and hypnotherapists only, and is Not for beginners. Beginners should take this course and get the early registration discount.
Feedback from the last class…
"The course is excellent! Cal Banyan is a superb teacher. The manual was very well written. The course should be taken by every serious hypnotist. I would be pleased to discuss the merits of this course and Cal Banyan with anybody who would want more detailed information about it."
C J Mozzochi, Ph.D.
"Great process that offers a systematic approach to doing top notch hypnosis! I would highly recommend 5-PATH® and 7th Path to anyone who really wants to help others."
Vanessa Adams, M. Ed., CAGS, C.H..
"Great Course! Learned alot and the information was presented clearly and in an organized fashion."
Bob Cronin, BS.
"This course honed my current skills to a razor sharp level. Then added a tremendous amount of additional new information."
Rod Kelly, BCH, MCH.
"This was worth the trip all the way from Canada. My money's worth was paid back by the first day."
Issac Weiss, CH.
"As a newly certified hypnotist, this class was great for building my confidence. Cal really did a great job of helping me understand the tremendous potential of using both his 5-PATH® and 7th Path Process."
Janet Burgoon.
"Thank you for teaching me a path to inner peace. Thank you for giving me a tool to teach and help others."
Rene A. Lake-Gagliardi, MS.