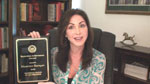 NGH Convention Awards and Hypnotist Career Advancement
Happy "Hypnosis Friday" everyone! Welcome to the latest free hypnosis training video here on www.CalBanyan.com. (If you are reading this anywhere but, www.CalBanyan.com then go there right now, there are many more videos you can access right now!)
Meredith returns in this episode of Cal Banyan's Hypnosis Etc., training program, and it's so nice to have her co-hosting with me again. I am sure that all of you are just as happy as I am to have her return. 😀
This episode recaps some highlights of what happened at the National Guild of Hypnotists convention this year. Maureen and I were presented with some "Hypnotism" awards at the convention, we are grateful for receiving these honors. I'll tell you more about them in the program.
In this hypnosis training video, I also give some insight on how to advance your career as a professional hypnotists or hypnotherapist and generally grow in the profession of hypnotism.
Watch the video and let us know what you think by posting a comment below. We LOVE getting your comments!
Here are some of the questions answered in this episode:
What have you done to receive awards?

What are some tips for getting published in the NGH Journal of Hypnotism?

How can I give a talk at the next NGH convention? Here is the proposal form!

And more.

Do you want to join the hypnosis profession or take your practice to the next level?
I have more courses scheduled for this year. You better hurry though, seating is limited and classes are filling up.
For the latest info. Call 469-969-2176 or 800-965-3390.
National Guild of Hypnotists Approved Hypnotherapy Certification – November 1-12, 2010 SAVE $100 with our early registration discount.

Week of Power Advanced Hypnosis & Hypnotherapy Certification Course – October 3-9, 2010 Get certified in 5-PATH® and 7th Path Self-Hypnosis, build your skills and confidence, and become a Hypno-1%'er™.
Here are some links related to the show: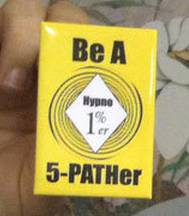 Go ahead and Leave your comments below. I dare ya!
Be a Hypno-1%'er™ and succeed when others fail.
Let's keep in touch!