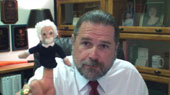 Elronn Shares How He Benefits as a Hypnotherapist by Experiencing Hypnosis Sessions Himself – Part III
Welcome to another free hypnosis training video on www.CalBanyan.com. Our weekly hypnosis videos will turn you into a hypno-Einstein.
We continue with part III in our series where Elronn takes the lead and discusses what it's like to be on the other side of 5-PATH®.
Here we go!
Here is some of what is covered in this episode:
What is Hypnotic Age Regression for?

When is Age Regression complete?

How a properly conducted pre-hypnosis interview can determine what is done in that session.

Why you should avoid doing one-session hypnosis.

The importance of letting the client "really" have the "previvification" experience.

How important it is to check the logic between the thoughts and the feelings reported by the client, according to The Secret Language of Feelings.

How important it is to be able to tie everything together in a session, including a spontaneous Past Life Regression if it were to come up in a session.

What is 7th Path Self-Hypnosis® and what does it do?

And More!
Here are some of the links related to the show:
I hope you enjoy this episode and tell your hypno-buddies to visit the site. Remember, this is the third episode in a four part series. Keep checking back and see what Elronn will share next.
Leave your comments below. We love your feedback, questions and comments.
Be a Hypno-1%'er™
and succeed when others fail.
Let's keep in touch!