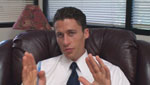 Elronn Shares How He Benefit's as a Hypnotherapist by Experiencing Hypnosis Sessions Himself – Part I
It's Hypnosis Friday! And, you know what I'm talking about. That means we have another free hypnosis training video for you here on www.CalBanyan.com.
This is a very special episode because Elronn is going to take the lead. That's right, in this episode of Cal Banyan's Hypnosis Etc., Elronn discusses what it's like to be on the other side of 5-PATH®. Yes, Elronn goes into the "big chair" as the client and it has really given him some insight for doing better sessions with his clients.
Before we get started, I want to mention that if you can act right now, you can save big on the upcoming July, 2010 NGH Approved Banyan Hypnosis/Hypnotherapy Certification Course at our center in Tustin, CA (offsite, online seats also available). Act now and save $250.00 off the tuition off this hypnosis certification course!
And, now on with the show…
Here are just some of the insights from Elronn's sessions that he expects will help him take his practice to the next level:
How to benefit by filling out the intake paperwork yourself.

How the session can be improved by watching the client and picking out very subtle expressions and sounds.

How relentlessness and thoroughness in the session really pays off for the client.

How important it is to empower the adult during a hypnotherapy session.

And More!
Here are some links related to the show:
So we hope you enjoy this episode, which is the first in a four part series. In each one, you'll learn how hypnotherapists can learn more about doing great hypnosis sessions by going through the process themselves. Keep checking back and see what Elronn will share next.
Remember to leave your comments below. We love your feedback, questions and comments.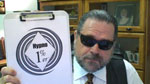 Be a Hypno-1%'er™ and succeed when others fail.
Let's keep in touch! We can connect in these ways…
Follow me on twitter! www.Twitter.com/calbanyan
Become a member of our facebook page at www.Facebook.com/hypnosisetc!
Hypnosis pros network, www.ourhypnospace.com/calbanyan.