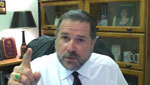 The High Road to Success – A Free Hypnosis Script & More
Welcome to another free hypnosis training video on www.CalBanyan.com. This episode of Cal Banyan's Hypnosis Etc. is all about my free Universal Script entitled The High Road to Success. Someone had a question about how to use this universal script with people who don't have a lot of foresight like a teen smoker. I answer that question and more!
Before you get rolling along with this week's videos, I want to give a BIG mention to a couple of new freebies on the Web.

The first is my new "How to Hypnotize" video that I have placed on www.Hypnosis.ORG. It is a mixture of the old and the new. I took a segment out of my hypnosis training video program called, Instant and Rapid Inductions for the Professional, and added some video, explaining exactly what I'm doing in the Elman-Banyan induction. There is some other extra stuff in there on how to do an instant induction by post-hypnotic induction, and how to do some hypnotic depth testing. To make it even better, if you share that video with some friends, as a gift, I have a second video with even more insider tips on how to make inductions work even better.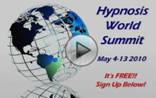 Next is the Hypnosis World Summit. It is coming up in just a few days. Here's the deal. 20 top notch speakers in the profession of hypnotism are doing free seminars for those who sign up to hear them. Sweet deal right? I also want to encourage anyone who has a website or knows how use email to check out the affiliate program. I did, here is my link to the Hypnosis World Summit. Check it out and let me know what you think. http://bit.ly/dvS2hX
Speaking of affiliate programs… One of the things I discussed in this video is our affiliate program for Hypnosis.ORG. It's a great way for anyone to make some passive income.
Okay, back to our regularly scheduled program… 😉
In this free hypnosis training video, Meredith and I also discussed my "Week of Power" advanced hypnosis training course starting May 16th (only room for one more on site, two seats open for live online participation). This class is going to be really fun. Meredith and Elronn are going to sit in and maybe even do a little teaching. My next Week of Power Advanced Hypnosis/Hypnotherapy Certification will be available in August at the NGH convention. For more information go to www.NGH.net.
Here is the High Road Low Road script. It's free for you to use. Print it out and use it in your hypnosis sessions.
Links related to the show:
I think that's enough free hypnosis training and stuff for this week. Remember to leave your comments below. We love your feedback, questions and comments.
Let's keep in touch! We can connect in these ways…
Follow me on twitter! www.Twitter.com/calbanyan
Become a member of our facebook page at www.Facebook.com/hypnosisetc!
Friend me on Google Buzz, www.google.com/profiles/calbanyan.
Hypnosis pros network, www.ourhypnospace.com/calbanyan.