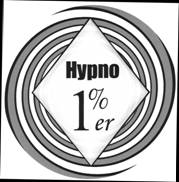 Over the years I have taught about the concept of the "Hypno-1%'ers™" (hypno-one-percenter), which I describe as those who are the best of the best in the profession. Some misunderstand why I talk about this so much and I've even been accused of trying to set apart a few people in the profession who are "better than everyone else". And, believe it or not, that is not what I am trying to do.
I talk about the Hypno-1%ers because I want to identify the factors that make the best of the best so good, and then encourage more and more of you in the profession to emulate them.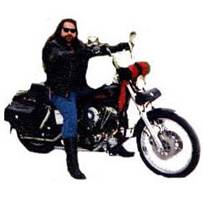 It all started several years ago when a student in one of my Week of Power Advanced Hypnosis/Hypnotherapy Certification Courses remarked that what I was teaching was only known and used by about the top 1% of those practicing in our profession. That person was Dr. Eric Robins, author of Your Hands Can Heal You. This struck a chord with me because of my mixed background with both psychology and the "outlaw" biker lifestyle. I wanted to coin a term that both recognizes what being the top 1% is, as well as being part of the 1% that does not "follow the rules". Out of that can the term Hypno-1%er. 5-PATH® trained hypnosis professionals are among the best of the best, and they break away from the restraints of old classical approaches to hypnosis and embrace the "bleeding edge" of the new technology that they use every day.
I also like to say that "There is an army of hypnotists out there. We are the special forces!" We get things done when everyone else has failed.
(Click on this link to learn more about the American Motorcycle Association and one percenter clubs and lifestyle).
A brief comparison in my mind between the 1% Biker, and the Hypno-1%er goes something like this. First off. let me say that even though the 1%er biker lifestyle often includes breaking society's rules (breaking the law and being an outlaw), breaking the law is not something that theHypno-1%er does. He/she may break old outdated "rules" that other hypnosis professionals have accepted as necessary, but still strives to work within the laws of where he/she practices hypnotism. They do compare in other ways as you'll see below.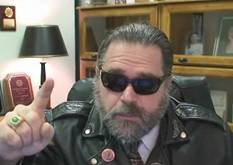 The 1%er biker lives the biker lifestyle all the time, not just on weekends. This man (the 1% is almost always a male) knows his motorcycle, how to ride it, rides it often, and is mostly associated with serious bikers like himself. He is often associated with a motorcycle club (either as an associate, prospect or full patch member) and contributes to the well-being of that club always putting it before personal short term monetary gain. Yes, there is an unwritten code of ethics as well. He is aware of other bikers and helps those who are worthy to achieve 1%er status as well, through friendship and mentoring. This fellow is a biker inside and out, not part time or as a hobby. This individual often wears the 1%er diamond patch, similar to the patch I have above, but without the hypnotic spiral.
Likewise the Hypno-1%er, as stated before, "breaks the rules" from time to time, ignoring old out dated ideas that no longer serve him, her or the profession. He or she is a hypnosis professional all the time. It is not just a hobby. The Hypno-1%er is among the very best in the profession, statistically (if such research was ever done right now), he or she would be among the top one percent in abilities and outcome of services. This comes from seeking out training from some of the best in the profession, either through live training, or books, videos, and audio programs. This individual is serious about both, providing the best possible services to clients,and with lifting all of the profession to a higher level. He or she mentors others in the profession who are worth it so that they can become Hypno-1%ers as well.
Below is an outline that is subject to future adjustments. It is presented to you as a starting place to begin to understand what it takes to be aHypno-1%er.
Holds him/herself to a stringent code of ethics.

Example would be the National Guild of Hypnotists Code of Ethics.
Further exemplified by an unbending commitment to putting clients first.

Has the highest commitment to the growth and development of the profession:

Puts the profession before short term personal monetary gain.
Belongs to a major hypnosis organization.
Contributes to the organization and/or profession on a regular basis.

Giving talks.
Teaching.
Writing articles.
Publishing both audio and video materials.

Endeavors to be the best of the best.

Is full time in the profession, or could be if he/she wanted to be.
Studies the greatest teachers of the past and present.
Learns from every hypnosis session conducted.
Is an instructor or plans to be, we always learn by teaching.

Has a solid understanding of cognitive and emotional factors that contribute to client's problems and bring about change.

Understands how painful emotions and stress lead to client's problems.
Understands how thoughts lead to emotions and behavior.
Has an effective model of the mind enabling him/her to work with the conscious, subconscious and unconscious levels of the mind.

Masters and utilizes the most powerful induction, deepening and testing techniques.

Uses the most efficient and effective hypnotic inductions, including instant and rapid inductions.
Knows what level of hypnosis is required to do the work intended.
Is able to reliably and rapidly get a client to that level of hypnosis.
Be able to covertly test for that level of hypnosis.
Able to skillfully use hypnotic convincers.

Masters and utilizes the most powerful hypnotic transformational techniques.

Can skillfully perform hypnotic age regression work.
Can skillfully perform hypnotic age progression work.
Can skillfully perform parts work.
Can skillfully utilize insights gained in the sessions to make lasting changes through suggestion.

Is able to integrate other tools into the hypnosis process when appropriate such as:

Teaching and supporting the use of self-hypnosis to clients.
Use of EFT when appropriate (but does not use it in lieu of available hypnotic procedures.)
Use of NLP techniques to improve communication, compliance, hypnotic suggestions, etc.

Is successful nearly 100% of the time.

It is understood that no one can be successful 100% of the time because success requires the cooperation of the client. Uncooperative and unmotivated clients greatly decrease the likelihood of success, even when the hypnosis professional is fully trained and equipped to help the person reach his/her goals.
So there it is. I'm open to input from everyone, especially the Hypno-1%ers out there and those who aspire to attain this level in the profession.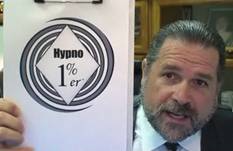 Now the question is bound to come up. "Cal, are you a 1%er biker type?" No, I'm not. I left that lifestyle a long time ago. Oh, I still have an old Harley, and I still like to ride. I still like to get together with my old biker friends (but they are in North Dakota and Minnesota), so you know that doesn't happen very often. Now I focus on being a Hypno-1%'ers™. I guess it is in my nature to be hardcore about anything that is really important to me.
So, what do you think it takes to be the best of the best, the top 1% in our profession?
Leave a comment below.