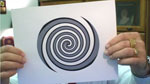 Age Progression Questions and Answers
Happy, HAPPY Friday all you Hypno-1%'ers™ and Hypno-1%'ers™ in training! So, you still have questions about Age Progression and FRE (Future Re-enforcing Events)? If so, you are going to like this free hypnosis training video in the series here on www.CalBanyan.com.
In this episode of Cal Banyan's Hypnosis Etc., Meredith and I go even deeper into when, how and why you should use Age Progression in your hypnosis sessions to get the highest 1% results.

Before we get started with the show, let me get in one more "plug" for the Hypnosis World Summit. Let me just say, Tom Nicoli is NOT up to any shenanigans! Check out the free online hypnosis classes at http://bit.ly/dvS2hX – they start soon, so go there right after the video. Plus, I want to encourage you to look into the affiliate program that he has on the site. If you have never been involved in an affiliate program, I think that this would be a great place to start. Just click on the orange tab for all the details.
Important questions about hypnotic age regression therapy answered:
Should I start a hypnosis session with Age Progression?

How can FRE and Age Progression help a client who is coming in for sessions that are less "behavior based"?

What do you do when you go to a future event and the pain or bad behavior is still there?

And More!
Special Training Announcement – The Week of Power: Even though all of the available on-site seats for my Advanced Hypnosis Training Course in May are sold out, I still have a few online seats available. Hurry, before they are taken too! My next Week of Power Advanced Hypnosis/Hypnotherapy Certification will be available in August at the NGH convention. For more information go to www.NGH.net.
My full course schedule is right here on www.HypnosisCenter.com. See you in class!
Links Related to the show:

Hours & Hours of Banyan Hypnosis Training on CDs.
We have gathered up the first 150 episodes of fun, interesting and informative hypnosis training and put them in a series of 6 volumes. Each volume contains 25 episodes and is contained in 10-12 CDs!
Let's keep in touch! We can connect in these ways…
Follow me on twitter! www.Twitter.com/calbanyan
Become a member of our facebook page at www.Facebook.com/hypnosisetc!
Friend me on Google Buzz, www.google.com/profiles/calbanyan.
Hypnosis pros network, www.ourhypnospace.com/calbanyan.