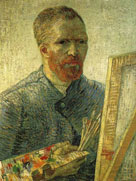 "Hypnotizing" Van Gogh, a Pseudo Case History Part 4
It's another Friday so that means another free hypnosis/hypnotherapy training video on www.calbanyan.com.
This episode of Cal Banyan's Hypnosis etc. is supersized. Elronn and I just had to make an extra long episode in our series entitled "Hypnotizing Van Gogh, a Pseudo Case History". I think we might be giving away too much free hypnosis training information, and we aren't even finished with the series yet!
Since this is an extra long episode… lights, camera, action! 🙂
After an overview of the previous episodes, Elronn and I discuss:
We begin Phase III: Forgiveness of Others (FOO) with Van Gogh.

I give some details about the origin of Forgiveness of Others.

Why do 5-PATHers do Phase III with every client?

Why do painful emotions drive too much behavior?

What is the platter of pain?

And even more questions and free hypnotherapy information!
Here are a few links related to this episode:

Did you know that all feelings are good? Even anger, sadness, guilt, and depression…The Secret Language of Feelings reveals the healthy side of emotion that leads to success and personal fulfillment.

Enter into the profession of hypnotherapy, or take your hypnosis practice to the next level by taking a Banyan hypnosis certification course.
My "Super Course" is Hypnosis Training that leads to success. Become a Hypnotherapist certified by the National Guild of Hypnotists (NGH) at the Banyan Hypnosis Center.

The "Week of Power" Advanced Hypnotherapy Training course will make you a 1%er. The next Advanced Hypnosis Certification course starts May16th. Click here to sign up.

You can also view our complete course schedule here. We have Advanced and Basic Hypnotherapy Certification Courses available throughout the year.

Contact our office to find out about enrolling in the 7th Path Self-Hypnosis® Ultimate Recognitions Course and our upcoming NGH Approved Banyan Hypnosis/Hypnotherapy Certification Course in Malaysia! 469-969-2176 or 800-965-3390.
I think that's enough free hypnosis training videos for this week. Thank you for tuning in and please leave a comment below. We love to hear your feedback and questions.