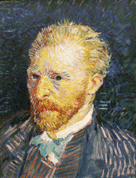 "Hypnotizing" Van Gogh, a Pseudo Case History Part 3
Here we go again with another free hypnosis training video on www.CalBanyan.com.
In this episode of Cal Banyan's Hypnosis etc., we continue with our series entitled "Hypnotizing Van Gogh, a Pseudo Case History". This video is part three of the series so if you haven't already, you should watch part 1 and part 2 first.
I think Elronn is doing great with this topic, pretty soon I can retire. 😀 Okay, okay, maybe I can't quite retire yet but for now it's on with the show.
Elronn and I do a rundown of the last episode then we get to some of these topics:
Cal quits 5-PATH®?

Elronn uses the Eight Word Induction with Vincent.

An explanation of the Informed Child Technique and how Vincent benefits from that technique.

How Age Progression helps Van Gogh look forward to the future.
Important links related to the show:

Enter into the profession of hypnotherapy, or take your hypnosis practice to the next level by taking a Banyan hypnosis certification course.
My "Super Course" is Hypnosis Training that leads to success. Become a Hypnotherapist certified by the National Guild of Hypnotists (NGH) at the Banyan Hypnosis Center.

The "Week of Power" Advanced Hypnotherapy Training course will make you a 1%er. The next Advanced Hypnosis Certification course starts November 8th. Click here to sign up.

You can also view our complete course schedule here. We have Advanced and Basic Hypnotherapy Certification Courses available throughout the year.

Contact our office to find out about enrolling in the 7th Path Self-Hypnosis® Ultimate Recognitions Course and our upcoming NGH Approved Banyan Hypnosis/Hypnotherapy Certification Course in Malaysia! 469-969-2176 or 800-965-3390.
That is it for this week. Thank you all for viewing this hypnosis training podcast video. Remember to leave your comments below. We love your feedback, questions and comments.