Live Q & A, Plus the Controversial Topic, Are You Doing Hypnosis or Hypnotherapy?
It is time for another fabulous Hypnosis, Etc. free hypnosis training video podcast on www.CalBanyan.com! This program was recorded live yesterday as it was streamed through the "chat" area of our www.OurHypnoSpace.com hypnosis community website.

Happy birthday Celeste! As you all probably know, Celeste Hackett of www.familyfirsthypnosis.com has done many videos with me in the past for the Hypnosis, Etc. show, and I want you to know that yesterday was her birthday. Visit her website and give her a belated birthday wish!
Celeste, thank you for all you have done for hypnosis professionals around the world!
Check out our specials…
5-PATH® 2.0 – Hypnosis Training DVD Set: Regularly $949.00 Now only $649.00 Save: $300.00 off. Offer will end without notice.

Ultimate Stage Hypnosis Seminar by Jerry Valley and others – July 15th-19th Las Vegas: $1895.00: $1395.00 – Save: $500.00 off. Savings ends soon!

Banyan Hypnosis Cert. Super Course – Jul. 13th – 24th, 2009 Regularly $2,695.00 – It's filling up $2,445.00. Save: $250.00 off. Special discount ends June 12th!

Banyan Hypnosis Cert. Super Course – Oct. 19th – 30th, 2009 Regularly $2,695.00 Early registration discount- Save $250.00
Additional Announcements…
Now "on with the show" as they say! We start off with a very nice email from Ireland. Helen talk about using my Spirit Releasement Program CD Set, to work on a project that she is involved with. Thank you Helen for writing and sharing your work with 5-PATH after studying the 5-PATH DVD Course!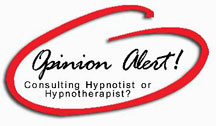 HYPNO-CONTROVERSY!
Are you doing hypnosis or hypnotherapy?

Are you a Consulting Hypnotist or a Hypnotherapist?
The main topic of this episode is based on my most recent article that I just sent off to the NGH for publishing in the Journal of Hypnotism. In this article, I attempt to make a case that whether or not we are doing hypnotism/hypnosis or hypnotherapy is not really up to us! It is up to our clients, in particular, the condition that they are coming to see us about. If it is just a normal everyday problem (like helping them to have more confidence or eliminating a bad habit) then we are doing hypnosis or hypnotism, however, if they have a condition that has been diagnosed by either a medical or mental health professional, then we are really doing hypnotherapy. I think this is going to be controversial! What do you think? Leave a comment below!
By the way, if you want to join in on the next live recording session, make sure you join www.OurHypnoSpace.com. It would be really helpful if you could leave a comment below letting us know what you think would be the best recording time for the episodes in the future. The last recording session started about 3:00 PM Pacific Time (and recorded for almost two hours, in order to record the four shows). So, we are wondering, should we keep that time, or start later? Let us know!
Your Questions and Our Answers for this Episode…
How should I work with someone who suffers from insomnia?

What is the recommended number of sessions per week and why?
Important links…
That is it for this hypnosis video program. We hope you liked it. Send us your suggestions by leaving a comment below. Tell your friends. We really appreciate it.