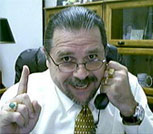 Did you know that right now Elsom Eldridge, Jr., the mastermind behind organizing the biggest and most important hypnosis event of the year is offering you a whole bunch of free seminars? Well, he is and you can learn a lot just by dialing in! The next NGH teleseminar is this evening and the run well into July.
I'll put the entire list below. But, before I do, I thought that our site visitors would like to know that I am on one these seminars. It will be on July 18th. Here is the info…
Thursday, June 18, 2009 at 9:00 pm eastern time – 7th Path Self-Hypnosis® Teacher Certification Training, with Cal Banyan. Click on the link above to get learn more, http://www.InstantTeleseminar.com/?eventid=7667382. The phone number to dial is 201-793-9022. Use Conference ID: 8800640# to participate.
BIG List of Free NGH Hypnosis Teleseminars!
* Go to www.NGH.net for additional information.