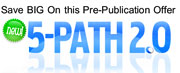 What Psychologists Think of Hypnosis (Continued), How to Make More Money with Your Hypnosis Website & A Prepublication Special on the 5-PATH 2.0 Distance Learning Course
SUPER BIG ANNOUNCEMENT – Ooops! I mention on this video that our 5-PATH® Advanced Hypnosis and Hypnotherapy Distance Learning Video Course would be available this week, and as it works out it looks like we will not be able to ship it out for about another 10 days, or so! Hmmm, what to do?



At first this was so disappointing because this is THE BEST DVD COURSE I HAVE EVER PRODUCED. My staff has been calling it my masterpiece!

IT IS HUGE, containing 20 DVDs, 2 audio CDs and a data Disk CD with the entire manual and handouts from the course. This is the entire Week of Power course, which was recorded in only 6 days rather than the usual 7 days. This video program has been tightly edited so all material not related to doing 5-PATH® has been edited out, so you can focus your time on learning the most advanced hypnosis techniques.

This advanced hypnosis distance learning course is the most complete and up to date course available. But, you can't have it! Well, at least not yet.

You will learn how to do rapid and instant inductions, convincers, age regression, age progression, "parts" work, forgiveness work, and see it all demonstrated in a systematic way on real clients which were recorded on video. This is the most up to date and comprehensive video training course available. (5-PATH® certification option available.)
Here is the good news… I was talking with our staff and it occurred to me that we are ready to take orders now. This is what we are going to do, we are going to offer a pre-publication special on this set, good only this week (through next Friday).
Order Now & Save BIG! This course is going to retail at about $1000.00, but during this prepublication period you can get it for only $449.00. That is right, this is the 2.0 version of our 5-PATH® distance learning course, totally updated, better video, better demonstration and twice the content for have of the post publication price. To get all the details and to order click here.
Now, on to the rest of our program!
Subscribe to Cal Banyan's Podcasts with iTunes – Click Hypnosis Podcast
Questions that Cal Banyan answers in this program:
I continue to answer the question from the previous episode regarding what psychologists think about hypnosis and hypnotherapy.

Find out why Psychologists are the "lay persons" when it comes to hypnosis and hypnotherapy.

Psychologists admit that they have given up on getting rid of professional hypnotists (aka: Consulting Hypnotists).

Learn where there is room for hypnotists and hypnotherapists to work with medical professionals.
Hypnosis links to information mentioned in this program:
We hope you will tell your friends around the world about these videos, and leave a comment. Thank you for watching. 🙂