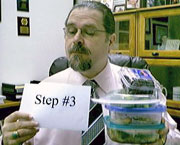 I have to tell you that I feel that I am off to a great start. All of that "taking responsibility" and "being prepared" is working great and I have already noticed a difference in how my clothes are fitting. I know that it seems too soon, but I really can.
So, next I want to talk a bit about the next step in my plan…
Step #3: Eating for Healthy Weight Loss – I need to have a plan on how I will eat so that I don't have to make it up as I go along. I will eat small and healthy portions of lean meats, fruits and vegetables, supplemented by vitamin tablets.
If someone is really interested in losing weight and being healthy, then some thought needs to be put into one's diet. Heaven knows I have done a lot of research in this area, benefiting from both the experiences of my clients and my own experience as well. What I have settled on is a diet that is very close to the Paleo Diet. This way of eating is also called the Paleolithic Diet, Caveman Diet, or Hunter/Gatherer Diet. Basically it consists of unprocessed foods and avoiding grains, beans and potatoes.
So what can I have? I can have all kinds of fresh meats, including beef, pork, fish, foul and wild game, as well as lots of fresh vegetables and small portions of fruit.
In my experience I do best if I avoid grains, especially wheat products because they cause me to hold water and feel bloated. Later on I may allow rice, when I get to the weight maintenance phase of my program. You see, I want to come to the convention every year at my ideal weight, and of course live in a healthy manner all year round. For me it is a quality of life decision because I know that just about everything in my life will go better with a healthy, energetic, and lean body.
I plan on having 5 small meals a day. Those meals will consist of protein and some vegetable or fruit. For example, last night I had a bowl of soup and a small salad. This morning I had soup for breakfast. I find homemade meat and vegetable soups to be tasty and satisfying. So, soups and salads will make up the majority of my meals. But, man (at least Cal) does not live by soup and salad alone! I will also have grilled meats and veggies once in a while. I think that will be a great way to eat with friends, or eat when we are out. The key will be to keep the protein portions small (i.e., 3 to 4 ounces) and to avoid salad dressings that are filled with too much fat or carbohydrates.
Another thing that I like about this approach to eating is that it is pretty easy to prepare my meals ahead of time and then bringing in the soups, salads and other things into work to eat during the day.
By the way, last night I tried one of those Salad Spritzers, and I really liked it. There are three flavors and so I'll have enough variety. They are a great way to give my salads a little "zing" while keeping the fat and carbohydrates within reasonable limits. (By the way, technically by using these prepared dressings I am breaking some of the rules of the Paleo Diet, but heck since I'm not really a caveman I'm allowed to "fudge" a bit don't you think?)
Well, there it is, my detailed plan. Keep sending in your comments. I really enjoy hearing your advice.
Oh, and I am especially interested in hearing about lean and healthy places to eat while I'm in London teaching my Week of Power Class in April. So if any of you have any tips please leave them here in the comments section. Just click on the Post a Comment link at the bottom right of this post. Oh, and then of course there is the upcoming NGH Solid Gold Weekend in Las Vegas. I'm sure there has to be some great places to eat healthy in Vegas as well. Send me your advice and tips.