I am totally moved by the number of emails and comments that I have received from other hypnotists and hypnotherapists around the world who have decided to get behind me on this, and some who have even decided that they are going to make the same commitment! Thank you all so much. It is going to be more fun with you all doing this with me.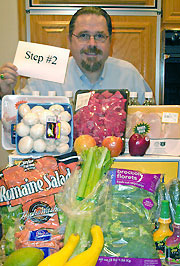 Now I want to continue to explain my 9-Step Weight Loss Program. The next step in my weight loss plan, which is really the foundation to being successful is covered next.
You can be totally motivated, you can know what you are going to do, you can be totally committed to your success, but if you don't have the things that you need to be successful it is just going to be one big frustating project, to say the least. So here is a bit more information on Step #2. I hope that it will help everyone who is thinking about joining me on this journey to be successful. By the way, if you are seeing clients for weight loss you might want to integrate some of this into the work that you are doing.
Step #2: Being Prepared – Since eating and exercising right requires that I have the ability to eat right every day, and exercise every day, then I need to have the proper foods and equipment available for me to be successful.
What am I going to eat? That is simple, good healthy, non-processed foods. Mostly my diet will consist of lean meats, green vegitables, and fresh fruits. I will eat smaller portions, and as I do that I expect that my ability to feel full and statisfied will adjust over time to the smaller amounts of food that I am eating. I am not going to use a program where some other business prepares my food for me, or eat frozen dinners that are designed for dieters, because an important part of what I am going to be doing is to get used to eating smaller portions, and create the habit of cooking and eating meals that will keep me slim and healthy for life.
I also have three kinds of excercise equipment available to me at this time, walking shoes, my recumbent tadpole trike, and my TRIKKE T8 (click this link or see graphic on the top right hand page for a link to get one of your own). I'll write more about them later on and give you some photos of me using them, and maybe I'll even be able to manage some video. That will be a lot of fun! Here are a couple of photos of my two trikes. I think you will find them to be a bit different from the trikes you may have had when you were just a kid!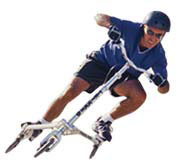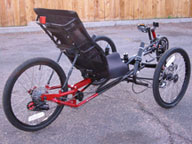 Bye for now. And thank you guys for sending your comments. I really appriciate your input, so keep them coming!
Oh, and one last thing if you are considering NGH Hypnotherapy Certification, I hope you will look into our training program. You get NGH approved training, and 5-PATH® and 7th Path Self-Hypnosis® as well. It simply cannot be beat if you want to start off right in this profession or if you want to take your practice to the next level. It is also available live over the Internet. Our next class is in March 2007 and seating is always limited.