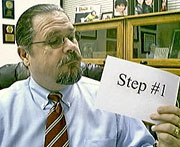 I've decided it might be helpful if I take the time to make a quick entry about each one of these steps. So today I start of with a quick explanation about Step #1.
Step #1: Taking Responsibility – I am the only one responsible for my health and success. I am the one who is responsible for eating and exercising in a way that will make me successful.
I think that this in certainly one of the most important steps in my plan, if not THE most important aspect of the whole thing. One must take personal responsibility for the outcome of their weight loss program. This means that I am responsible for having the right foods available. I am responsible for making time for exercise, having the right equipment and doing it in a healthy way!
To many times when I have worked with clients who have come to me for weight loss sessions I hear, "I could lose weight if my wife would cook the kind of meals I need to lose weight" or "I could exercise if I had more time" and so on. My clients and I have got to accept one truth if we are to be successful, and it goes something like this, "If it is to be, then it is up to me." Of course it is always a bonus when you have a supportive family, and if you have lots of time for shopping, cooking and exercise. However, one needs to face the reality of his or her own circumstance. It is up to us, the individuals who want to live a healthier lifestyle and lose weight that need to make it work. It is not up to our spouses, or the government, or our employer to ensure that we are happy and lose weight. Are you with me on this?
So with that in mind I proceed into tomorrow, the first day of my weight loss success. I hope others will join me in the process, and it starts with Step #1, Taking Responsibility.