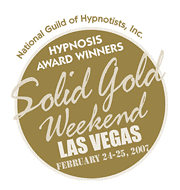 It is official! If you are interested in hypnosis this is a "must see" event!
The National Guild of Hypnotists' Solid Gold Weekend is February 24- 25, 2007, and it is going to be a fantastic experience!
Be there and you will experience two days of some of the best and most entertaining speakers in the profession.
But it is not just fun, it will definitely be informative! You will not only learn more about hypnosis, but you will also learn how to build your hypnotherapy practice.
Come to the Solid Gold Weekend, and leave with the tools you need to take your practice of hypnotism to the next level.
Check out the list of speakers below. (You will see that Maureen and I have been invited back once again and we could not be more excited to be part of this upcoming NGH sponsored event.)
Speakers for this special event are:
Shaun Brookhouse
Ron Eslinger
Arthur Leidecker
Patricia MacIsaac
Don Mottin
Richard Sutphen
Cal and Maureen Banyan!
Here is just some of what you will learn:
How to book more appointments.
How to get doctor referrals.
How to build your business and go full time.
How to hire other hypnotherapists to work for you.
How to work with fearful clients.
More ways to market your hypnosis practice.
How to dramatically increase success.
How to turn your hypnosis practice into a school.
And, much more.
Special discounts for NGH members and early registration!
Go to the National Guild of Hypnotists website for more details and to register now.
I want to especially encourage all 5-PATHers and Orange County NGH Chapter members to attend this important NGH event. Please call our office if you need any additional information (714) 258-8380.