Cal Banyan for Halloween, and on Nov. 3rd Meet the Pros Audio Program - Del Hunter Morrill - Write Great Scripts
Here is the latest news about our free offerings on our websites. I think that you will find them to be fun and very informative!
Halloween Podcast - The "Spooky" Side of Hypnosis: Spontaneous Past Life Regression, Spirit Attachments and Dark Force Entities.
Upcoming Podcasts - Advanced Hypnosis Questions Answered: Sports, Hair Pulling and Pain.
Next Meet the Pros Free Online Seminar - Del Hunter Morrill: How to Write Great Hypnosis Scripts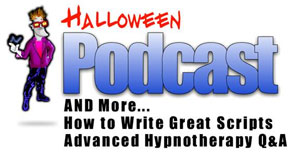 New Podcast for Halloween
In this new Podcast I cover materials that I am reluctant to talk about. But since it is Halloween, I thought it would be appropriate just this once! I'll briefly go over some interesting information about Past Life Regression, Attached Entities, and Dark Force Entities! Booooooooo 🙂 I'll try to not let it get toooooooo spooky for you!
Upcoming Podcasts
I'm putting the outlines together right now. I've been looking through some of the many email groups that we sponsor on Yahoo and I've picked out some interesting advanced hypnotherapy questions. In the upcoming Podcasts I'll do my best to answer them. Some of the topics include, the emotional side of pain management, sports hypnosis, and compulsive hair pulling! Of course you can find all of my Podcasts here at my blog. Oh, and there will be a special deal there to help you save a bit of money on www.BanyanHypnosisMall.com.
How to Write Great Hypnosis Scripts
Sorry to have kept you hanging about the exact time and place for our next Meet the Pros Audio Program with Del Hunter Morrill! Now the date and time has been set for Friday (Nov. 3rd) at 5:00 PM Pacific Standard Time.
In case you didn't know, Del is a well known and highly respected hypnotherapist who has written several volumes of hypnotherapy scripts. They are all a great resource for all hypnotherapists. You can learn more about her Great Escapes series by going to our website www.BanyanHypnosisMall.com. In this seminar she is going to teach you how to write great scripts for yourself. Here is an example of what she will cover in this free seminar.
How to approach writing hypnosis scripts.
What style works best.
What needs to be included in each script.
How writing for adults differs from writing for children.
What are the optimum lengths for hypnosis scripts.
What are the best ways to end a script.
When should ideomotor questioning be included in a script.
What releasing methods should be used.
And more!
Seating is limited! Contact Taylor to reserve your seat for this online seminar. In the mean time, have a great Halloween!
Cal Banyan's Hypnosis Training Podcast #13