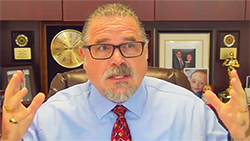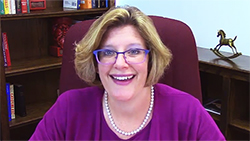 You Are A Better Hypnosis Professional If You Are Relaxed In Your Sessions
Discover How to be Relaxed and Focused During Your Sessions
Surprising Way to Enter into a Trancelike State In Your Sessions
Hello Hypnotists!
YES, YOU CAN BE MORE FOCUSED IN A TRANCELIKE STATE IN YOUR SESSIONS! In this new hypnosis training video, we let you in on the benefits of getting into a trancelike state while you are in session and what you must do to make that state work for you and your clients.
QUICK NOTE BEFORE WE GET STARTED, if you are reading and watching this video anywhere besides www.CalBanyan.com, I recommend you go there now so you can get everything, including hundreds of free hypnosis training videos! (Some other sites have been known to use our content, that is why I'm mentioning it here.)
But FIRST – Congratulations are in order! Brenda announces that Cal received two awards during the NGH convention. YES, the NGH convention was a fabulous 5-PATH® success! It is becoming obvious that 5-PATH® is a movement in the profession! Thanks also to 5-PATHers everywhere for recognizing me with the Delta Award Recognizing "20 Years of Excellence". See the two images on the left.
Then later at the NGH awards banquet, I was honored to receive Ormond McGill Award Best of the Best Speakers at the NGH Convention (Chair). The image on the right is that of Dr. Dwight Damon President of the NGH presenting me with the chair. I am grateful for this recognition!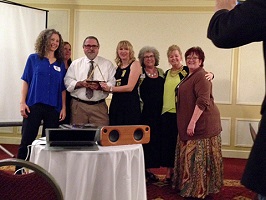 Cal Being Presented with the "Delta Award"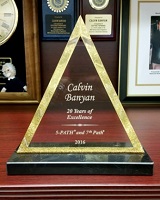 Delta 20th Year Award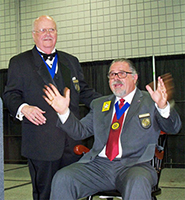 Cal Receiving the Ormond McGill Chair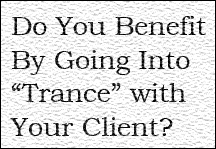 Back to our topic – Benefits of the Hypnotist Going Into Trance In Sessions & How to Do It!
This video is all about letting yourself go into a relaxed trancelike state when you conduct your hypnosis sessions. We say "trancelike" but we don't mean hypnosis, because hypnosis is not trance, hypnosis is a heightened state of suggestibility. Trance is simply focused attention.
Benefits of relaxing with your clients in each session:
✔ You feel less anxious
✔ You feel more calm and confident
✔ Tou focus better on the hypnosis process
✔ You can be with your client and not the outline or script
How to relax in your sessions: Drills lead to success and success leads to competence and that leads to mastery. One of the mistakes that new hypnotists make is that they don't understand how to drill properly for success. Great hypnosis training must include drill, which means going through processes (inductions, etc.) over and over again as part of your training (supervised in class).
Real confidence comes from success. When you have drilled enough, like an athlete drills, or an actor rehearses her part, then you can relax in your sessions and "be with your client" instead of the script or outline. When you do this, you will naturally be more successful.
Consistency for Ongoing Success: Once you have drilled for success, continue to reinforce that skill-set by continuing to use the inductions, deepeners and other techniques that you learned in class. Don't try to master ten different inductions or deepening techniques in class. Master two or three, and use them over and over again, then add maybe one more over the next six months or year. This consistency is a big part of continuing to build competency that allows yourself to relax and be with your client.
BIG IMPORTANT ANNOUNCEMENTS from CAL…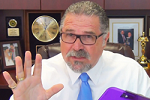 #1 – Tuition increase of $500 starts NEXT year (2017)
Enroll for one of this year's courses to save $500!
#2 – No online training NEXT YEAR – 2017!.
Enroll now in a 2016 class if you want to take my course live online! Enroll now if you are interested in this option!
How to Get Professional Hypnosis Certification with Cal Banyan
Early Registration Discount for Nov. "Advanced" Certification! The October Certification Course is filling Fast! Call for more info, 469-969-2176 or 800-965-3390.
#3 – Become a VIP Member – It's FREE – And get instant access to all of Cal's FREE hypnosis training videos and get notified when new videos are published. Click Here Now
Please tell your hypno-friends about these free hypnosis and hypnotherapy training videos. Thanks!
Let's do GREAT things together!
Cal Banyan
What Do You Think of this Video?
Scroll Down to Leave a Comment Below