Description
Banyan Online Supervision Meetings
Volume 1: Scrambled 5-PATH
---
Cal discusses when the most powerful thing to do is to do 5-PATH® out of order.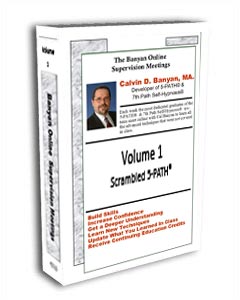 Or Call: (469) 969-2176 or 800-965-3390
Cal discusses a special hypnosis topic - Scrambled 5-PATH®-an Advanced View
Must we always start with Phase I and dutifully move through the process to Phase IV or V?
When is it appropriate to just start off with AR?
What if it takes more than one session to do an AR?
Once we complete AR, are there times when I should revisit that phase?
Can I mix up Phases like AR and FOO? Will lightning strike?
What if I think I am done with a client and she wants to keep coming back?