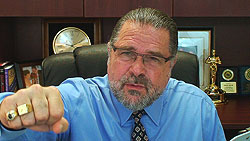 Stop Making this HUGE Age Regression Mistake!
Happy Hypno-Tuesday! Cal is back for another fun and informative episode of Hypnosis Etc. on www.CalBanyan.com.  Become a VIP Member of this site and get instant access to all of the videos here, all of them organized by date and title.  Each title is linked to the video.  You just click on the title of the video you want to watch and you can play the video.  Either click on the VIP Membership link at the top of this site or send a blank email to videos@calbanyan.com.  Here is what that page looks like…  (example graphic of what the list looks like).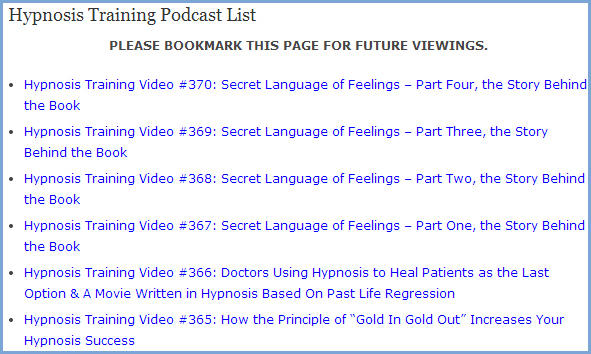 … listing all the way back to podcast #1!

In this all Cal episode, he briefly talks about the recent NGH Solid Gold Weekend that just happened. He shares how it is the best in the west coast and is second only to the NGH Convention in the East.
Cal discusses a huge misconception about using hypnotic age regression. He mentions the age that usually the ISE occurs and how the child's perception differs from a mature one. He delves into the details on how age regression reexamines the events in the past and uses the adult perception to see things differently with a more accurate perception which brings about the change the client came in to make.
He then talks about how to respond to a client who says they think they're not deep enough in hypnosis. Cal shares the best convincers to use for the clients to test their level of hypnosis and the importance of using a good pre-talk to cover most of the misconceptions and fears of the clients.
One last thing, I have the Week of Power Advanced Hypnosis Course coming up on May 4th through the 10 of this year, 2014.  Plus, I have the NGH Approved Banyan Hypnosis Certification Super Course on July 14th through the 25th (weekend off).  Check our hypnosis training schedule for other dates.
Things discussed in today's video:
The misconception about hypnotic age regression.
How hypnotic age regression is a reality check of the perceptions of the past.
Covert testing for deep levels of hypnosis.
How to best use convincers during hypnosis sessions.
What is the importance of having a pre-talk.
What to do when clients wonder if they were deep enough in hypnosis.  (Question from the NGH Group on LinkedIn.)
How to troubleshoot a problematic hypnosis technique.
Important Links for today's video:
Thank you to all of our fans from around the world! Continue to follow us on Facebook to receive updates on what's going on between each

episode and to give your input as well. If you haven't done so already, check us out and "Like" us on www.facebook.com/hypnosisetc. Thanks a whole lot for sharing us with your friends as well!