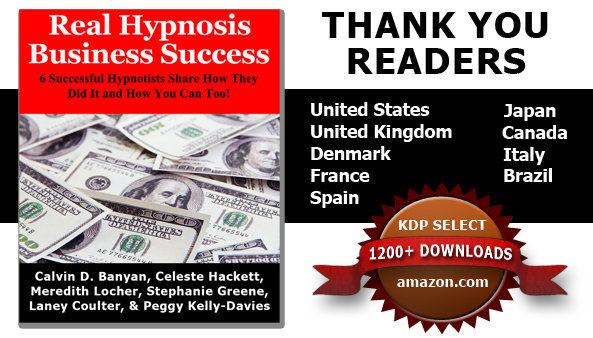 I have good news, despite a few technical difficulties, the book, Real Hypnosis Business Success was downloaded from Amazon.com 1228 times by readers from at least 8 different countries in just about 3 or 4 days!
Thank you all for taking the time to download the book! I know that the information in it will help you make your hypnosis practice more successful. I believe that this book will help fill that void that exists as you go from "classroom to clients." I know of no other book of its kind.
If you find that the book helped you, all the authors would greatly appreciate a review on amazon.com. Even just a few words would mean a lot.
NEXT: To keep the discussion open, we have just set up a new group at http://www.ourhypnospace.com/m/groups/view/Real-Hypnosis-Business-Success-Book On this new group, we can continue to share what is really working for us in the business world of hypnotism. (You will need to sign in to participate in the discussion.)