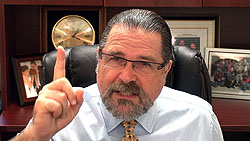 How to Be a Hypnotist – Tips on Selecting the Right Hypnosis Trainer or School
Happy Hypno-Friday! Enjoy another "all Cal" episode of Hypnosis Etc. on www.CalBanyan.com. Meredith will be back with me next week with more informative questions and topics. If you have a question or topic that you would like to see covered on this program, use the "Ask Us" button at the top of the page and we will consider it for an upcoming episode!
In this latest episode, I discuss why choosing the right hypnosis trainer or school is critical to your success in becoming a hypnotist. You will learn important factors that will help you select a hypnosis school that is right for you – even if you can't or don't choose Banyan hypnosis training.
These tips are not only for those who are entering the profession, but, for those who are experienced and wish to develop their knowledge and techniques through advanced hypnosis training.
Thanks for visiting my hypnosis training videos website. If you enjoyed these videos, please tell your friends about this helpful resource for hypnotists and hypnotherapists around the world. Remember to check out our Hypnosis, Etc. page on Facebook, at www.facebook.com/hypnosisetc. Please "Like" us on Facebook and below this video and get into the conversation.
Today's Discussion Points: How to Select a Hypnosis/Hypnotherapy Trainer, Instructor or School (Even If It Is NOT A Banyan Training Program):
Is your hypnosis trainer properly licensed by the state to teach hypnosis?
How much practice time will be scheduled IN class?
Does the program include instant and rapid inductions?
Does the program include a system that will help you succeed with 90-95% of the clients that would come into your office?
Will you learn a form of self-hypnosis that you can use, teach to your clients, and practice during class?
Does you trainer have a real office where clients are seen? Are they successful?
What types of services does your hypnosis trainer or school offer to help you market your practice?
And much more!
Hot Links: Links Mentioned in this Podcast, Etc.
Weekly Special:
Save $400.00 OffJuly 2012 NGH Approved Banyan Hypnosis Certification Super Course!For this week only, enroll in our upcoming July 2012 hypnosis training course by June 8, 2012 and receive $400.00 in instant savings.To learn more or to sign up for the July 2012 hypnosis training course, click here.
With our NGH certification hypnosis training course, you will receive all the training and support you need to become a successful hypnotist, a Hypno-1%'er™, including NGH "Core Curriculum," 5-PATH® Hypnotherapy, and 7th Path Self-Hypnosis®.

Banyan Hypnosis Center is a California State Registered School.
Small class sizes with 18 hours of supervised practice sessions.
Certification through the National Guild of Hypnotists (NGH).
Certification in 5-PATH® Hypnotherapy and 7th Path Self-Hypnosis®.
Learn modern hypnosis techniques, including Elman-Banyan Rapid Hypnotic Inductions, age regression, and much more!
Learn how to set up and market your hypnotherapy practice for success.
Free ongong support after you graduate.
Get Your Professional National Guild of Hypnotists Approved Hypnosis and Hypnotherapy Certification – Early registration discounts available.
Be a VIP – Keep in touch and get THE latest insider info about this program:

Also remember to stay in touch and on the inside by becoming part of our VIP Program, and by "Liking" our facebook page at www.facebook.com/hypnosisetc. By joining our free VIP Program you get instant access to the complete listing of all our free hypnosis training videos that you can watch any time.