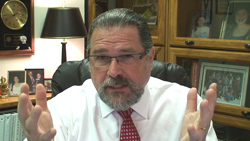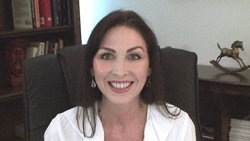 Overcoming Challenging Issues When Doing Hypnotic Age Regression Therapy
Happy Hypno-Friday! Meredith is back co-hosting another episode of Hypnosis Etc. on www.CalBanyan.com. Watch this latest hypnosis training episode and discover how to overcome challenging issues when doing 5-PATH® Phase II's, hypnotic age regression therapy, with a client.
Click the "Play" button and Meredith get things rolling by asking Cal about "ARrrrr" … Age Regression (AR). Make sure you have your "thinking cap" on because this is going to be DEEP. You might have to watch this a few times, but if you can get this, you are definitely going to take the AR work you do to the next level. To help you out, Cal has put "The Flow of Consciousness & Behavior" graphic below.
Now, proceed and Cal will give you insider tips, tricks, and techniques on how to handle and overcome challenging issues that come up when trying to find the initial sensitizing event (ISE) and neutralizing it.
Tips from, The Secret Language of Feelings:
Anger comes from the perception that what is happening is not fair.
Fear comes from the perception that something bad is going to happen.
If this is true from the perspective of the adult client, we validate the emotion in the AR.
If the perception of the child was not based in reality, according to the knowledge of the adult aspect, then the adult can inform the child aspect and shift the perception, which results in the removal of both the erroneous perception and the erroneous emotion that was being generated.
If you enjoy learning from these videos, we suggest that you tell your friends about this helpful resource for hypnotists and hypnotherapists around the world. Remember to check out our Hypnosis, Etc. page on Facebook, at http://www.facebook.com/hypnosisetc. Please "Like" it and get into the conversation.
If you have any questions or comments, please feel free to leave your comments down below or send us your questions by clicking on Ask Us.
Graphic Example of Flow of Consciousness & Behavior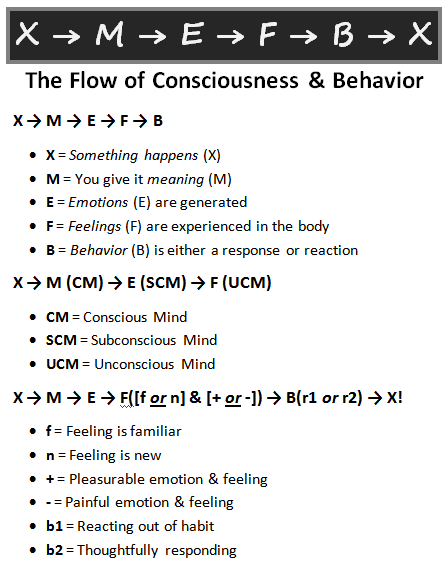 Today's Discussion Points:
How to deal with anger and fear issues when using the informed child technique while doing age regression therapy.
How to handle clients that want to deal with negative emotions but only bring up "happy times" during the hypnotherapy session.
How to get to the initial sensitizing event (ISE) when unexpected subsequent events come up.
Hot Links: Links Mentioned in this Podcast, Etc.
Weekly Special: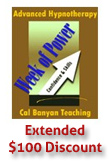 For this week only! Take advantage of this extended $100 early registration discount by signing up for the May 2012 Week of Power – Advanced Hypnosis and Hypnotherapy Training Course.
This is a how to do successful hypnotherapy and become a "1%'er" certification course! You get certified in 5-PATH® and 7th Path Self-Hypnosis®. Click here to learn more or to sign up.
Get Your Professional National Guild of Hypnotists Approved Hypnosis and Hypnotherapy Certification – Early registration discounts available.
Be a VIP – Keep in touch and get THE latest insider info about this program:

Also remember to stay in touch and on the inside by becoming part of our VIP Program, and by "Liking" our facebook page at www.facebook.com/hypnosisetc. By joining our free VIP Program you get instant access to the complete listing of all our free hypnosis training videos that you can watch any time.