"It was the best Solid Gold Weekend I've attended" announced one attendee.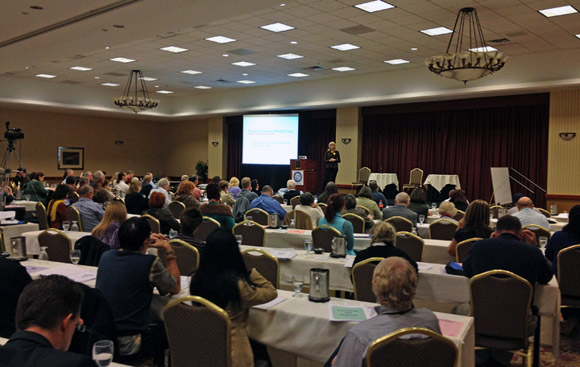 Celeste Hackett Addressing the Attendees
I could not be more proud of Celeste, Meredith and Elronn (all co-hosts of our Hypnosis, Etc. Program). They represented the Hypnosis, Etc. program here on www.CalBanyan.com and all 5-PATHers around the world wonderfully, at the Solid Gold Weekend this past weekend.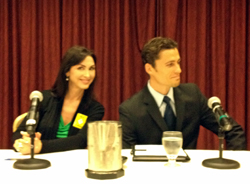 Meredith & Elronn on the Experts Panel
Before They Gave Their Talks on
Saturday and Sunday
After their very professional performance this weekend, I know that they have launched their careers to a higher level. And as they reach these higher levels in the profession, they will continue to represent all of the values that we hypno–1%ers hold so close to our hearts.
I also want to congratulate EVERY one of you who managed to make it out to the Solid Gold Weekend. This showing of the Hypnosis, Etc. program viewers and 5–PATHers shows the NGH that we are a positive movement in the profession.
Dr. Damon, NGH President, told me personally how impressed he was with all the 5–PATHers who showed up. You were professional, knowledgeable and projected a high commitment to professionalism.
Other Topics Included:
Working with Heartbreak Successfully – Elronn Ferguson

Trouble Shooting Weight Loss – Celeste Hackett

Overcoming Client Resistance In & Out of Hypnosis – Meredith Locher

Constant Cash Flow Model for Hypnosis Business Success – Cal Banyan
PLUS, everyone was impressed with our former and current co-hosts, Celeste Hackett, Meredith Locher and Elronn Ferguson. The NGH was so impressed that we are all invited to speak at the upcoming NGH Convention in August.
I also want to thank Dr. Damon and the entire NGH staff for making this event the power-house it is, and for letting me be a speaker as well as having the honor of wrapping up the event on Sunday afternoon.
I hope you will share the good news about our website here at www.CalBanyan.com and leave us a comment below.