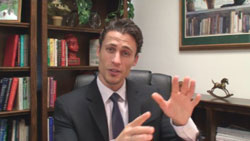 Working with Clients Who Have Trouble Sleeping
Here we go again with another free hypnosis training video on www.CalBanyan.com.
In this episode of Cal Banyan's Hypnosis Etc., I've got something special for you. Something came up and I couldn't make it to the hypnosis training video recording session, and so Elronn bravely stepped up. That's right, it's an Elronn-Ferguson-only video! He really gives a lot of tips for working with clients who have insomnia and other sleep disorders. Get your pencil and paper to take notes!
Oh and ONE LAST THING… Leave Elronn a comment below to let him think of how useful the information in this hypnosis training video was for you.
Here are some of Elronn's hypnosis training topics:
Your clients sleeping habits can give you clues to how they are doing with their issue, sleep related or not.
Do high functioning people need less sleep then "regular" people?
What is a healthy sleep cycle?
What kind of insomnia or sleep disorder does your client have?
Are there different types or levels of sleep?
Is your client on sleep medication?
How long has your client had trouble sleeping?
And More.
Here are some more links related to the show:
Upcoming Hypnosis & Hypnotherapy Certification Courses – Register Early for Substantial Discounts:

Keep in touch and get THE latest insider info about this program:
Become a member of our Facebook page at www.Facebook.com/hypnosisetc! You'll get the "inside scoop" on different things from the show, and more!

Get instant access
to 150+ of my hypnosis
training programs free!