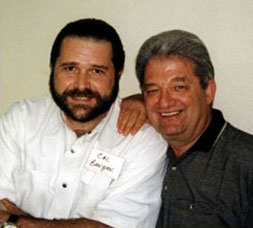 Why the old photo of Jerry and me? It is always fun to remember the good old days, right? Like the days when we watched VHS tapes and Jerry Kein was still selling DVDs for example.
Well, guess what? It is Spring Cleaning time at the Banyan Hypnosis Center and Danny found some real gems in the stock room!
As you probably know, you can now only get Jerry's videos through downloads, that is until now. That is until now… We found that we still had a few of the DVDs in stock.
And, we also found a couple of my videos which were produced in VHS. I told Danny to put them up on Ebay so that some smart hypnotists can snap them up.
So, here are the links. Have a look. It is a great chance to get Jerry's DVDs, and my training at a big discount if you still have a VHS player (I think we all still have one of them around somewhere, right?)
Here is the list:
Good luck and let the bidding begin!