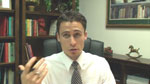 Controversy! Do Stage Hypnotists Harm the Profession? What Is Influence?
Yikes! We have been stirring things up with these last couple of episodes. Some people like what we are saying and some don't. Remember, we reserve the right to change our minds if we get new evidence, information or discover a convincing perspective that differs from ours.
Let's see what you think of this topic on this free hypnosis training video here on www.CalBanyan.com. Don't be shy, leave a comment and join in.
Note: On this video, Elronn and I say something like, "We have met some hypnotists and hypnotherapists out there that really suck!" When we say this, we don't mean that they are bad hypnotherapists or hypnotists. Perhaps, we should have been clearer about this. What we are saying is that most hypnotists and hypnotherapists out there don't live up to the "Hypno-1%er" level of performance that we are preaching and teaching in these videos. For more on this topic, see my comment that I left in the comments area of the previous podcast. That is enough said about that, now on with the show!
Here are some of the topics we discuss:
Is stage hypnosis good or bad for the hypnosis/hypnotherapy profession?

What is the difference between hypnosis and influence?

If you could ask the son of Dave Elman anything about his father or hypnosis, what would that be? Leave a comment and let me know.

And More!
Here are some more links related to the show:
REMEMBER: National Guild of Hypnotist's Solid Gold Weekend is going to be in Anaheim California, February 26 and 27, 2011!

You can get more details at www.NGH.net (more info coming).
I am going to be presenting on the topic of mastering hypnotic age regression and hypnotherapy.
Use this link to register, https://www.ngh.net/forms/solidgold.aspx.

Get instant access
to 150+ of my hypnosis
training programs free!
Keep in touch and get THE latest insider info about this program:
Become a member of our Facebook page at www.Facebook.com/hypnosisetc! You'll get the "inside scoop" on different things from the show, and more!